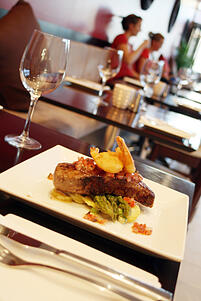 Whether you are looking to start your day off right, pick up something to take with you for your day at the beach, or relax and enjoy the sunset with a glass of wine in your hand, here are some of the great places to eat in Oak[s] Bluffs.
Start your day off right at Martha's Vineyard Gourmet Café and Bakery, located next to the post office. Open seasonally, you can enjoy a variety of tea and coffee choices, as well as hot chocolate, along with fresh apple fritters, scones, croissants and a variety of other tempting treats. This place also makes stunning cakes for special occasions, so if you're on the island to celebrate an anniversary or accomplishment, order a cake to celebrate.
As a bonus, if you are in the area between 7:30 pm and 12:58 am, you can get breakfast again by going to the bakery's "Back Door" for donuts, cinnamon rolls and another of those tasty apple fritters.
If you're planning a day out of doors, stop by Skinny's Fat Sandwiches and pick up some awesome sandwiches to take with you. They are open at 8 am to make it easy for you to pick up a fresh lunch on your way. In addition to a wide variety of classic deli sandwiches, they also have a series of healthy wraps and salads to choose from. Of course, no picnic lunch would be complete without both healthy (watermelon) and sinful (brownies, cookies, etc.) desserts, and don't forget to check out their daily specials.
Another great place to grab any meal to go is at Tony's Market, which has delicious options for breakfast, lunch or dinner to go, as well as whatever groceries you might need when planning a meal on your boat or at your backyard grill.
A traditional location for dinner out in Oak Bluffs is the Ocean View Restaurant and Tavern, which is a year-round establishment owned by locals and loved by all. From lobster and prime rib to pizza and sandwiches, this place has it all. If you're on the island for a special occaions, they can also host a celebratory event for up to 100 people.
For a fresh, outdoor seafood dining experience, check out Fishbones Grille & Waterfront Café, where you can relax and enjoy sipping a cocktail and watching the sunset while indulging in freshly-caught seafood and a relaxed, casual atmosphere.
These are just a few of the great options available when you cruise through Oak Bluffs in your A-A Auto Rental car, or stay the night at one of our grand old hotels or quaint bed and breakfast spots. For more information, dining suggestions, and to make your car reservation, contact us today.