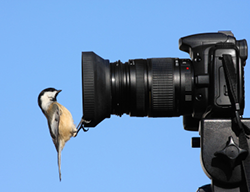 Do you love to go bird watching regardless of the season? If so, a great way to do it is to secure Martha's Vineyard rental cars. We've got convertibles, jeeps, mini vans, SUVs and 4-door sedans. So it doesn't matter how many birding buddies will be joining you. We've got you covered. Once you've got your comfortable ride reserved, we'd suggest visiting all of the island's birding hot spots.
Here's a fleeting glance at a few of the best places to visit:
Caroline Tuthill Preserve (Edgartown)
The Caroline Tuthill Preserve is one spot to put on your Martha's Vineyard birding list. It features several trails spread out over 150-acres of varied terrain. As such, you're apt to encounter many species of birds. Depending on the time of year, look for berry eating birds to be prevalent around the Garrett Family Trail's 6th marker.
David H. Smith Preserve (Edgartown)
You may also want to visit the David H. Smith Preserve. It is one of several in the area that are affiliated with The Nature Conservancy. The land is accessible year round, weather permitting. If you do decide to go, take the Fire Trail and keep your eyes open. You may run across quail, hairy woodpeckers, hermit thrush and more.
The Farm Institute (Edgartown)
The Farm Institute is another spot that is popular with bird watchers. It is located near the Katama Preserve, which is full of birds but presently closed to the public. Therefore, the best way to catch sight of the preserve's feathered wildlife is to stop by the farm. The list of birds commonly seen within the area includes sandpipers and plovers. The farm is open year round, with varying hours of operation.
Like we mentioned earlier, the above are just a few of the places to go bird watching. To learn more about them and Martha's Vineyard's other birding hot spots, please contact A-A Island Auto Rental at (800) 627-6333. We offer the best personalized service and deals on Martha's Vineyard rental cars. Just give us a call and see.