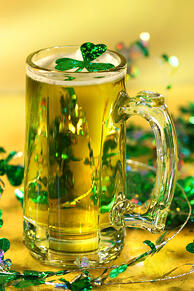 If you are looking for a place to celebrate St. Patrick's Day in 2014, don't forget about Martha's Vineyard. In its early years, the region attracted many Irish immigrants in search of a better life. As such, today, it remains the home of Irish hotels, restaurants, shops and more. Here's a look at several worth visiting with your Martha's Vineyard auto rental:
Kelley House (Edgartown)
Why not fire up your Martha's Vineyard auto rental and head to the historic Kelley House. In the 1800s, it was a popular meeting spot among the area's burgeoning population. Today, you can spend the night in one of the owner's beautifully appointed guest rooms and enjoy a Guinness Stout in The Newes.
The Wharf Restaurant & Pub (Edgartown)
Another place to grab an Irish brew and pub grub in Edgartown is The Wharf Restaurant & Pub. They typically serve Guinness beer and a wide variety of fresh seafood. Sometimes there is even nightly entertainment available.
Hibernia Irish Pub (New Bedford)
If you need more than a Guinness and fresh seafood to make you want to shout Erin Go Bragh, jump into your Martha's Vineyard auto rental and head towards New Bedford instead. That's where you'll find the Hibernia Irish Pub. They offer patrons access to authentic Irish foods, beer and musical entertainment. One great dish to try is their traditional Sheppard's pie.
Scottish Bakehouse (Vineyard Haven)
Do you count yourself among the millions of Irish-Scots in the world? Well then, drive your rental car to Vineyard Haven and the Scottish Bakehouse instead. They make the freshest Irish-Scots' shortbreads, cookies and pies. While you are there, you might want to pick up an espresso or some take-out food too.
Menemsha Hills (Chilmark)
Lastly, if you miss the marshes of Ireland, you might want to stop by Menemsha Hills. It's a 200+ acre preserve that features marshy areas and hiking trails. It is traditionally open during the daylight hours and portable toilets are available onsite.
To discover more about our Martha's Vineyard auto rental services and these great places to celebrate St. Patrick's Day, please contact us. At A-A Island Auto Rentals, we offer hotel and airport pick-up services. In addition, we have locations within easy access of the area's ferries.