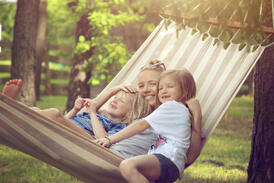 Massachusetts is a great, spring and summer vacation destination for families with young children. This is especially the case when it comes to our friends at the Winnetu Hotel on Martha's Vineyard. Located on Dunes Road in Edgartown, it's a family operated venue that faces the ocean and offers visitors a chance to enjoy a variety of overnight packages. In addition, it just so happens to be one of A-A Island Auto Rental's pickup locations.
Let's start with the overnight, family friendly packages first. They are all part of the Winnetu Hotel's signature, concierge services. Last season, they had more than 10 different offerings available. Some of our favorites were the Professional Family Portraits by the Sea, Family Beach Survival Kit and Family Necessities Packages. Collectively, they provided families with expertly produced, group photos as well as essential beach and baby gear.
The great family packages are not all that the Winnetu Hotel has to offer either. It also features an onsite pool and a restaurant with a health focused children's menu. Family friendly activities are available onsite and nearby too, which brings us to our auto rental service.
At A-A Island Auto Rental, we offer hotel pickup service. So that means that when visitors reserve a comfortable, family-size vehicle with us, we'll deliver it right to the Winnetu Hotel's front door. Oh, and by the way, we offer no-cost pickup service at the Martha's Vineyard Airport too. Thus, families don't have to worry about getting to the hotel from the airport either.
Once families have the keys to our rental vehicles in their hands, there's nothing stopping them from visiting all of Edgartown and Martha's Vineyard's fabulous attractions. A few fun destinations to consider are The Farm Institute, Island Cove Adventures, Beadniks and the Felix Neck Wildlife Sanctuary.
Families interested in learning more about our A-A Island Auto Rentals and Martha's Vineyard Edgartown lodging, are invited to contact us at (800) 627-6333. We'd also be delighted to share more of our picks for the best, family-friendly spots on the island. So families should feel free to ask questions about the area during their calls.