4 Great Sight-Seeing Tours!
When you visit Martha's Vineyard, try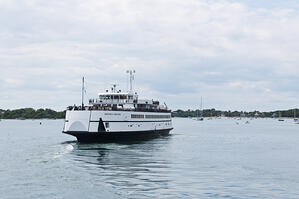 experiencing the island from the ocean. Enjoy the sun, water and some of the finest fishing in New England. Martha's Vineyard is known for some of the greatest fishing anywhere, with species such as Striped Bass, Bluefish, Sea Bass, False Albacore and more. Offshore, you can find Yellowfin, Bluefin Tuna, Mahi Mahi and Swordfish, to name a few. Here is a sampling of some of the most highly recommended charter boat tours:
Catboat Charters
Highly recommended by tourists, this excursion at sea will take you around Edgartown Harbor and surrounding areas, giving you amazing views. Most impressive is the iconic catboat you'll be sailing in—a restored New England treasure. You can even pick up some souvenirs of your tour and ride on the boat. Depending on when you take the tour, you'll enjoy breathtaking views, which may include a sunset sail. Both of your tour guides will provide you with all kinds of interesting information about the island and its celebrity guests. The captain may even play his guitar for you if you ask! If there are adults in your group, you can enjoy wine and imported beer, along with some snacks to top off your experience.
Martha's Vineyard Leisure Boat Charters
Take a tour on Martha's Vineyard's only powerboat day sail! Enjoy your own private USGC captained charter—a relaxing experience, great for families, couples and singles, too. Choose from a variety of destination packages—Menemsha, Tarpaulin Cove on a private island, the cliffs of Gay Head and more. You can also indulge yourself in a therapeutic clay bath or enjoy an on-board massage. This charter tour combines the best of the sea and tranquility, so you truly feel like you're on vacation!
Done Deal Charters
Come aboard with a captain who has more than 35 years of experience. You'll set sail on an impressive charter boat, fully equipped with a stove, sink, restroom and more for complete comfort while you're at sea. You'll spend an amazing afternoon sightseeing and fishing up to 100 miles out from shore. It's an unforgettable experience!
Skipper
This popular five-star rated charter tour, located in Oak Bluffs, is a fishing charter and party boat. A modern, state-of-the art boat will take you to the calm, protected waters of the Vineyard Sound. Listen to the music of Jimmy Buffet and James Taylor as you cast out. Whether you are experienced or not, the whole family is sure to have fun! You'll get a bag to bring home your catch, and you'll have access to fish cleaning services (upon request), as well as cooking tips and great seafood recipes!
If fishing is your thing, you'll definitely want to take a charter boat tour. Even if you don't regularly fish that much, it's a great way to make some really fun vacation memories!
To explore more of the island on land, A-A Island Auto Rental offers a wide selection of rental vehicles. You can be your own tour guide and experience all the magic of Martha's Vineyard! Contact us today!