If you'll be visiting Martha's Vineyar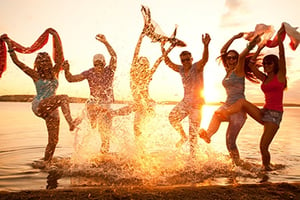 d this summer, you'll want to sample all of the many wonderful attractions and activities available on the island. Warmer breezes begin a season filled with possibilities, which is why we'll take you on a "tour" of some of the most special summer moments you can have on Martha's Vineyard.
Best Beaches
The Gay Head Public Beach (Moshup Beach) in Aquinnah is like something out of a movie, with dramatic cliffs and rocks, and miles of rolling sand. Wherever you stay on the island, you can experience breathtaking ocean scenery. The northern and eastern sides of the island have shallow, serene water, while the south side offers great surf for those hoping to catch some waves. Check out some of our previous blogs and learn more about Lobsterville Beach, Menemsha Public Beach and Katana Beach, to name a few.
Sightseeing
If you enjoy taking photos, or simply enjoy taking in the scenery to get away from your daily grind, there's nothing like the unspoiled island scenery. You can hike along nature trails and explore the many different species of wildlife. You can take a stroll along the shore, spotting lighthouses that the island is known for, and visiting the popular Edgartown harbor. You can also visit the famous colorful gingerbread houses, the U.S.'s oldest operating carousel, and take lots of photos from your trip!
Sampling the Local Flavor
Martha's Vineyard offers many great places to dine out, from gourmet restaurants to casual eateries. You can find the most succulent lobster and seafood dishes, as well as a mouth-watering burger. Bring the kids—or just the adults—and treat yourself to an ice cream on a warm day. And when the sun sets, enjoy cocktail hour with seaside views.
Go Shopping
It's always a good time to browse the island shops and find the perfect gifts and souvenirs. Edgartown, Oak Bluffs and Vineyard Haven are all bustling towns with lots of shops, restaurants and other attractions. There are art galleries, bookstores, antique shops and general stores where you can pick up some island t-shirts and treats in the same place.
Find the Perfect Accommodations
Whether you're looking for a hotel with all the amenities or a quiet bed and breakfast inn, you'll find a great selection of accommodations to choose from on the island. Depending on the kind of vacation experience you're looking for, Martha's Vineyard offers a number of historical inns that will leave an impression with memorable views. They are perfect for a tranquil, relaxing getaway. There are also family-friendly hotels with plenty of modern amenities like wi-fi and swimming pools. No matter what your vacation style or your budget, you'll find the right fit on Martha's Vineyard.
Keep checking our blog, because we'll be giving you all kinds of fun vacation ideas for the summer on Martha's Vineyard!
When you plan your next family vacation to Martha's Vineyard, let A-A Island Auto Rental be your guide to all the good stuff! We provide transportation around the island so you can get to every attraction easily. Contact us today!