Experience True Luxury in Edgartown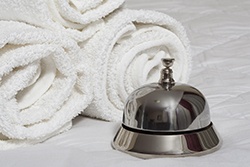 In this blog, we're showcasing some of the highest rated hotels and inns on Martha's Vineyard, so you can choose where to stay based on your vacation style. Are high-end amenities important to you? Or are you more interested in a convenient location? This week's spotlight inn gives you both, while transporting you to a world of elegance and charm.
The Hotel
It's casual chic meets French Caribbean style at this distinctive boutique hotel in Edgartown. Formerly The Victorian, The Christopher maintains New England charm, as well as the feel of the Island, while offering updated, contemporary accommodations.
Nestled in the heart of Edgartown, the inn is located just steps from shopping and dining, and a block away from the waterfront. So you can enjoy the breathtaking scenery and the convenience to many downtown attractions.
Accommodations
Choose from 15 fully remodeled, well-appointed accommodations—each capturing the Caribbean style, and furnished with great attention to detail. Spacious, with hardwood floors, crown molding and high ceilings—the pristine accommodations are so inviting, you won't want to leave! Pamper yourself with plush linens and pillows, kimono robes and luxurious bath aromatherapy products. All rooms offer state-of-the-art conveniences, including Bluetooth, free wireless Internet, flat-screen TVs and complimentary iPad.
All rooms provide a private bath with shower. Some rooms include a seating area for relaxing. Room types include: Standard King, Standard Queen, Deluxe King Room with Balcony, and a Suite featuring a king-size bed.
Please note: Many rooms are located on the second and third floors in this Victorian-era building, and there is no elevator. Please inquire upon booking if you have accessibility issues. Every effort will be made to accommodate room preferences, but they are not guaranteed.
Amenities
Guests of the hotel will enjoy personalized concierge services, as well as guest hospitality centers with refrigerators for your convenience. You'll enjoy a host of other delightful amenities as well, including complimentary breakfast and afternoon treats (warm cookies, anyone?), beach towels and chairs, as well as guest parking. In the evenings, enjoy beverages in the designer guest lounge or private back courtyard. Relax and mingle with other guests at the fire pit, enjoying a BYOB mixer.
Before checking in to your hotel or inn on Martha's Vineyard, the minute you step off the ferry, head to A-A Island Auto Rental to pick up your transportation around the island. Our wide selection of rental vehicles will allow you to see Martha's Vineyard in style, no matter what town you'll be staying in.
When you stay at a centrally located inn, remember that sightseeing in other towns can be a hassle without your own transportation. With a vehicle from A-A Island Auto Rental, you can travel to destinations across the Island, and come and go as you please. We provide the highest standards in customer service, and will help you choose the vehicle that best suits your vacation needs!
A-A Island Auto Rental is your guide to all of the great attractions! Contact us today!