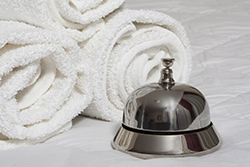 Discover Quaint Bed and Breakfasts on Martha's Vineyard
When you've spent a day at the beach or sightseeing, it's nice to come back to an inviting hotel or inn that complements the charm of Martha's Vineyard. Did you know that, in addition to hotels, there are 25 bed and breakfasts on the island? All of them offer quaint charm and history, making your vacation even more memorable. Read on to find your next favorite place on Martha's Vineyard! (In the next few blogs, we'll be spotlighting some favorite inns.)
Today's spotlight:
Isabelle's Beach House
Location
Imagine waking up to the sunrise from your ocean view room. That could happen if you stay at Isabelle's Beach House, a favorite bed and breakfast in Oak Bluffs. Voted "Best Beach Access" by Yankee magazine, this gorgeous seaside inn offers the most convenient location, right across from the ocean and just five minutes to downtown Oak Bluffs. You're just minutes from great shopping, restaurants, art galleries and the amazing water views of Nantucket Sound. It's also within walking distance to the ferry from Woods Hole. With this perfect location, you can enjoy a relaxing, seaside oasis, then venture to all of the attractions close by. It's the best of both worlds!
Rooms
Each room is tastefully appointed, with décor you wish you had in your own house! Wood floors, cottage-style décor, and beach-themed rooms make this inn a real favorite. Though the inn was built in 1899, each room offers modern amenities, including a flat-screen TV, complimentary WiFi, air-conditioning and heat, a refrigerator and modern baths. Unlike some bed and breakfasts, Isabelle's Beach House provides a private bath in every room. Many rooms offer water views, and those that don't are also lovely, with beach-style décor. Every room is ideal for a romantic couple's getaway. And if you're traveling with family, they also offer suites that can accommodate up to four people.
The most notable feature of this oceanside inn is the sprawling front porch, where you can enjoy a glass of wine in the evening or a nice cup of coffee in the morning and watch the sunrise. Often guests can be found reading a book on the porch or simply enjoying the view. In fact, you may be tempted to stay there all day!
Amenities
When you stay here, you can expect attentive service from Isabelle herself, a warm, gracious host who will see to it that you are always comfortable during your stay. Breakfast is included here, so you can start your day with scrumptious egg dishes (quiche, anyone?) and fresh waffles and coffee. Other options include cereal, oatmeal, yogurt, bagels and fresh fruit. In the afternoon, fresh-baked, chocolate chip cookies will await you after a day at the beach or shopping.
If you've never stayed at a bed and breakfast before, you'll be delighted at how Isabelle's Beach House really exemplifies the charm of New England.
When you plan a family vacation to Martha's Vineyard, let A-A Island Auto Rental be your guide to all the great attractions! We provide transportation around the island so you can get to your accommodations easily. Contact us today!