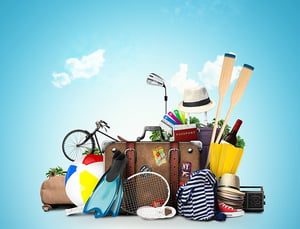 What You Need to Know
If you've been dreaming about a getaway to Martha's Vineyard, there's never been a better time! But don't let these vacation myths ruin your trip:
1. Accommodations will be too expensive.
You've heard that Martha's Vineyard is a popular vacation spot for celebrities and a few former presidents; therefore, it must be on the pricey side. Not necessarily. You can save money by choosing to travel during the off-seasons, such as spring, late fall and winter. If you don't mind a chill in the air, these can be romantic, and quieter, times to visit the island. It's true you could pay more in the summer when the tourist season is in full swing, but if you book your reservations early you may find some good deals. We recommend you make your reservations as soon as you know when you'll be traveling. If you wait until the last minute, you could be at the mercy of whatever is available. Also, we recommend checking this blog to get an idea of the types of accommodations that best suit your travel needs—and your budget.
2. It's more of an adult vacation; there won't be enough activities for kids.
While Martha's Vineyard is a beautiful getaway spot for adults to enjoy, there are plenty of fun attractions for kids. From the country's oldest carousel to renowned ice cream shops, there are places on the island that will make wonderful vacation memories for your kids. There's plenty of fun to be had at the beaches, where you can go swimming, kayaking, even surfing where the waves are extra high. There are amazing hiking trails with wildlife all around, and even an alpaca farm where the kids can pet real live alpacas! If your kids are glued to their phones or iPads, you may be concerned that some of the quainter inns on the island won't accommodate them. Not true! Even though many charming inns on the island have a throwback feel, they also have modern conveniences, such as WiFi, so you're covered. Keep checking our blog for more fun family-friendly attractions, and don't worry. The kids will never run out of things to do!
3. Most of the restaurants probably serve seafood.
While there are plenty of dining choices for seafood lovers, there is a wide variety of restaurants on the island. Nearly all of them have kid-friendly menus as well. There are places where you can grab some Mexican food, a gourmet burger, surf 'n turf, even coffeehouses with baked goods you'll love. And don't get us started on dessert. . .there are many places you'll want to sample! So if you're not a seafood lover, or have a seafood allergy, don't worry. The restaurants on the island cater to an eclectic mix of tastes.
4. Are all of the attractions on the island geared toward tourists?
If you're looking to do more of what the locals do, you can check out some great shops, bookstores and even catch a showing of what's playing at the Martha's Vineyard Film Society. You'll find an abundance of artists—painters, photographers, writers—showcasing their talents at local markets and film screenings. For film buffs, come on out to see movies that are often pre-screened on the island with discussions afterward with the director. There is so much to do, especially for those who are artists or who appreciate the arts.
5. Since it's difficult to bring your car on the ferry, transportation around the island may be a problem.
Not true! Getting around Martha's Vineyard is super easy with a rental car from A-A Island Auto Rental! We have two locations within walking distance of the ferry. We can also arrange a pickup from your hotel. Contact A-A Island Auto Rental today to start planning your next vacation to Martha's Vineyard!