Explore Some Local Favorites!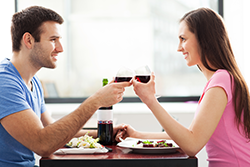 If you've been keeping up with this blog, you know that Edgartown is a favorite among the six towns located on Martha's Vineyard. Known as an upscale seaport village, Edgartown offers many attractions, as well as historical houses with an ocean backdrop, adding to the charm and character of this popular island destination. Here is just a sampling of things you can do during your stay in Edgartown:
Visit a movie set!
Edgartown provided the setting of the fictitious town of Amity in the blockbuster movie, Jaws. As you stroll down the quaint streets, shopping and sightseeing, you may recognize some of the real backdrops used in the movie.
Explore lighthouses.
If you're up for a 15-minute walk just outside the downtown area, check out the famous Edgartown Lighthouse. Once there, you'll discover amazing panoramic views of Lighthouse Beach and Edgartown Harbor. Admission is $5 a person.
Ride the Chappy Ferry.
You can take the ferry from Dock Street to Chappy. Enjoy the harbor views, and be sure to take a lot of photographs—the sunsets are among the best you'll ever find! If you spend a little time at Chappy Point Beach, you can do some fishing. It's a fun trip for the whole family!
Get ice cream!
No matter what the weather, the locals will tell you, it's always a good time for ice cream! Stop in for some tasty treats at Mad Martha's Ice Cream. Located on Water Street in Edgartown, this is THE place to bring your kids. The ice cream is homemade, with flavors like cookie dough, blueberry and Snickers. Did we mention the very large portions?
Grab a cup of coffee.
There's nothing better on a brisk autumn morning than visiting a quaint coffee shop and checking out the local flavor. At Espresso Love in Edgartown, you can do just that. There's also a market that sells ground or whole bean coffee—Colombian and Kenyan beans are combined to make a perfect cup. Espresso Love is open year-round, and sometimes you'll even spot an occasional celebrity here. It's also a great place to start your day with a scrumptious breakfast.
Dine out!
The Grill on Main is an upscale, yet casual, eatery, offering gourmet cuisine you'll be talking about long after your visit. Specializing in Italian-American fare, The Grill offers dishes like Lobster Turnover with Shrimp and Lemon Cream Sauce and Sauteed Veal Scallopini Marsala.They offer 2-for-1 entrees every Thursday, Friday and Saturday.
The Wharf Pub & Restaurant boasts the best linguine and clams on the island. Or try their lobster burgers and clam chowder. Besides the mouth-watering menu, you'll enjoy a casual, rustic ambience, including live music.
The Square Rigger is the place to go for that seafood dish you've been craving—boiled lobster, baked stuffed shrimp and more! It's a favorite of the locals, with an inviting atmosphere and many other selections on the menu for non-seafood eaters as well.
This is just a sampling of some fun things to do in Edgartown. Keep checking our blog for more great vacation tips on Martha's Vineyard!
To get around Martha's Vineyard easily, don't forget to contact A -A Island Auto Rental, your number one choice for car rentals on the island. Make your reservation today!