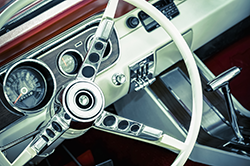 There's Something for Everyone at The Grange Exchange
Summer on Martha's Vineyard brings the island alive with bustling events, especially those that showcase some of the most talented local artists and antique dealers. If you happen to be visiting Martha's Vineyard in June—or during the summer months—you may want to check out the Antiques/Vintage Show & Sale at Grange Hall, which is located in West Tisbury.
Grange Hall
1067 State Road
West Tisbury
Friday, June 22, 9 a.m. – 3 p.m.
Admission is free.
More dates will be available through the end of August.
What is The Grange Exchange?
Grange Hall is an old-time New England landmark, built in 1859, with gray clapboard shingles and post-and-beam architecture. It was restored by the Martha's Vineyard Preservation Trust, and is now the site for many fun annual events—both private and public—including the summer West Tisbury Farmer's Market and the Vineyard Artisans Summer Festival where more than 70 artisans offer their work for sale directly to the public.
What You'll Find at the Antiques/Vintage Show & Sale on Martha's Vineyard
If you're an antiques enthusiast, or you just enjoy poking around, looking for undiscovered treasures, this is the place for you. Island dealers offer all kinds of items you would never find any place else, from folk art and tools to Oriental rugs. If you're a history buff, you'll love original pieces of island art and handmade jewelry, some of it influenced by the island's Native-American heritage.
Take a walk around and see locals who have tables set up with all kinds of handcrafted items, much of which can't be put into any category. This is ideal for visitors who really like to browse, never knowing what they'll find. For example, you could spot a handcrafted vase, old crockery, hand-designed silverware, or decorative wood features that might perfectly fill a spot in your home. Boating enthusiasts might find a display of various nautical knots, and even some people have found great props for plays. Best of all, you could spot that rare find, funky items for your home or surprising gifts for someone. It's a treasure chest on display, with items so eclectic and filled with history.
Antique Shops on Martha's Vineyard
If you can't make it to the Antiques/Vintage Show & Sale, there are several antique stores on the island. For example, Tuckernuck Antiques in Oak Bluffs offers a lively mix of vintage island memorabilia, including early souvenir china that was often found in stores on the island. You can also find old postcards and copies of old newspapers and maps, among other items. Other antique shops include Past & Presents in Edgartown, Vintage Jewelry in Edgartown, and Able to Cane Antiques in Vineyard Haven.
If you're looking for a bit of island history, antique lovers will find plenty of surprising treasures awaiting them at antique shows and stores all over Martha's Vineyard.
When you plan your next family vacation to Martha's Vineyard, let A-A Island Auto Rental be your guide to all the good stuff! We provide transportation around the island so you can get to every attraction easily. Contact us today!