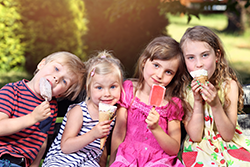 Nothing goes better together like summer and ice cream! If you're vacationing on Martha's Vineyard this summer, there are many great spots where you can get some tasty treats. Keep in mind, some of these places can get packed during the warmer months, but there are enough places to go where you won't have to spend too long waiting in line. Read on to learn more about these five top ice cream shops on the island.
Mad Martha's
7 N. Water St., Edgartown
Started in 1971, this iconic chain has become a staple of the island, with locations in Oak Bluffs and Vineyard Haven as well. They're known for an array of mouth-watering flavors, including M&M ice cream, Mint Oreo and Blueberry. Also, you'll want to try their cookie ice cream sandwiches! The atmosphere is upbeat and colorful, featuring an old-time jukebox. It's a popular spot, so pick out some tourist souvenirs while you wait.
Vineyard Scoops
56 Main St., Edgartown
Look for the iconic cow sign and settle in for some really cool treats! They offer classic flavors like Chocolate Chip and Cookie Dough, as well as more gourmet selections like Salted Caramel, Ginger Ice Cream and Gelato offerings, too.
Bernie's Home Made Ice Cream
22 Main St., Vineyard Haven
This is the place to go for homemade ice cream and fudge. You'll also find sundaes, soft serve ice cream (Vanilla and Chocolate), and homemade Italian Ice (Lemonade and Mango, to name a few). Their vanilla ice cream has received rave reviews. Some of their other decadent ice cream flavors include: Black Raspberry Chocolate Chip, Rum Raisin, Maple Walnut, Mocha Chip Coffee and milkshakes.
Ben & Bill's Chocolate Emporium
20a Circuit Ave., Oak Bluffs
Have you ever wanted to try vanilla ice cream with lobster chunks? You'll find it here, and it's surprisingly good! If you want to go more traditional, try their Fudge Swirl, Peach, and Pumpkin Cheesecake. Word to the wise: small is a big portion, so a little goes a long way! Also, there is a whole side to devoted to chocolate, so if you're a chocolate lover, don't miss the Kahlua Brownie Sundae. They offer dairy-free and vegan options, too.
O Below Thai Ice Cream
7 Circuit Ave. Extension, Oak Bluffs
If you're looking for ice cream AND a brand new experience, this is a must-see ice cream parlor. Each dessert is a work of art, with rolled ice cream creations that you really have to see to believe! Using a special technique of freezing liquid on metal plates in front of you, they design some of the most memorable creations ever. Enjoy popular flavors like Strawberry and Blueberry, with toppings like whipped cream or Fruity Pebbles. They also offer smoothies, lattés and more.
Keep checking our blog, because we'll be including even more of Martha's Vineyard's best ice cream shops and other fun-filled summer attractions!
When you plan your next family vacation to Martha's Vineyard, let A-A Island Auto Rental be your guide to all the good stuff! We provide transportation around the island so you can get to every attraction easily. Contact us today!