Dining Out on the Island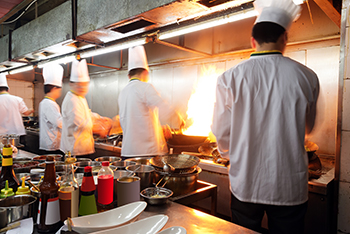 Martha's Vineyard is known for fresh seafood and incredible restaurants that are a seafood lover's delight. But if you should crave a different kind of fare, rest assured, the Island has plenty of other delicious dining options. Here is just a sampling:
La Soffitta
Impress your significant other with a romantic night out. And we know just the place! In Vineyard Haven, nestled above Waterside Market on Main Street, is an Italian restaurant you'll be talking about long after your visit. It's everything you'd expect an Italian restaurant to be—serving authentic dishes, as well as a comprehensive wine list and cocktails. For starters, you can enjoy crunchy Bruchetta with tomato, mozzarella and basil. Then you'll want to savor mouth-watering entrees like Beef Carpaccio served with crispy capers and Pesto Tortellini, to name a few. Other dishes include a Veal Chop and Eggplant Parmigiana. All cuisine is prepared by Chef Salvatore Della Torre.
The décor is classic and romantic with artistic black-and-white prints on the walls and rustic wood accents. This is a great choice for Italian cuisine AND a romantic night out!
Backyard Taco
If you're in Edgartown and craving Mexican food, this five-star rated restaurant will blow your mind. Tacos are the specialty here, and you'll quickly find out why. Everything is homemade, right down to the soft flour tortillas. Choose from steak, chicken, even eggplant, tacos, among other offerings. There are also vegetarian and healthy taco bowl options. Food is prepared in front of you, while you sip their signature spicy margaritas. If you're a beer drinker, you'll find, of course, Negra Modelo among their selections.
The atmosphere can be described as fun and funky, with dollar bills tacked to walls and an intimate, casual setting. It's a perfect place to go for a relaxing night out.
Copper Wok
This is the place to go in Vineyard Haven for sushi, Chinese and Pan Asian cuisine. Besides creative sushi dishes, you can do more turf than surf if you like—from beef and broccoli to chicken with oyster sauce. There are many chicken, pork and beef selections that feature tangy Szechuan sauce or curry and other spices. There are also plenty of shrimp dishes, as well as vegetable, fried rice and noodles—all of the cuisine you crave when you think of Chinese food. And did we mention the sake cocktails, too?
When you dine here, you'll be treated to ambient lighting in an elegant, yet casual atmosphere. It's ideal for a carefree dining experience!
The Right Fork Diner
This cozy diner offers traditional American food with views of the airfield in Edgartown. Stop by for pancakes and eggs at breakfast, or come over for lunch and dinner. They serve foods you crave—fried chicken breast meals, turkey and ham or Reuben sandwiches, and their signature burgers and hot dogs. You'll want to top off your meal with a hot fudge sundae, frappe or old-fashioned floats.
NOTE: These restaurants also offer seafood selections as well.
Keep checking our blog for more exciting dining options on Martha's Vineyard!
To travel to these destinations, and to get around the Island easily for sightseeing, don't forget to contact A -A Island Auto Rental, your number one choice for car rentals on the island. Make your reservation today!