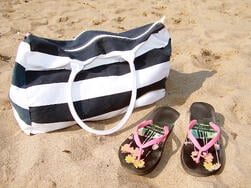 When you are heading to the beach this summer, it is a good idea to start your planning with the beach goer's checklist. For an island like Martha's Vineyard, there are different beach conditions, depending on where you are on the island.
The beaches on the south shore are open to the Atlantic Ocean, with heavier surf and deeper waters. The north shore beaches along Nantucket Sound and Vineyard Sound are generally calmer waters, great for those of you visiting with the young ones.
No matter which beach you are bound for, there are some beach necessities. Making a beach checklist can help you remember everything you need.
So what should you bring to the beach?
Sunscreen: You've heard it from left and right, but this is really one of the most important items to bring to the beach. You will be sitting and playing in direct sunlight for hours. You will be enjoying the sand and the surf, and you will want to go back to the beach tomorrow, but not if you are sunburned. It is a good idea to bring an spf lip balm, too.
Water: Staying hydrated will let you continue having fun at the beach.
A chair or towel: It is nice to have something to sit on at the beach. The sand between your toes is great. The sand in your shorts is not. Trust me on this.
A snack: Swimming in the ocean is fun, but it does take energy. Bringing a light snack can extend your time at the beach, and give you more energy to jump in the waves.
There are other items you may want, such as a ball, frisbee, or small bag for collecting shells or rocks. You may also like a beach umbrella and a book. These can be nice additions to the beach experience, as well. Whatever you decide, a day at the beach is a prime time for relaxing and forgetting about your phone, your watch, the laptop, and the Ipad. Take the opportunity to enjoy the beauty of the ocean and Martha's Vineyard.
Contact us and we will help you get to the best beaches on the island.