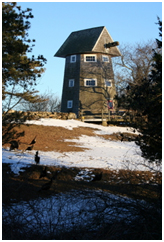 Beautiful any time of year, Martha's Vineyard boasts a quiet, secretive allure during the off-season. It is a great time to come for a visit, grab a rental car, and drive your way around the island! The crowds are thin, the locals are friendly, and the scenery is some of the absolute best in the world.
At Martha's Vineyard, island speed limits top out at 40 miles per hour and there are no stoplights, meaning you can relax and enjoy the scenery as you drive. With your own car, you can control the pace of your exploring and stop whenever the occasion recommends. So grab your map and head out for the day, making sure to keep these island landmarks in mind:
Black Dog Tavern
in Vineyard Haven (by the ferry dock) is a year-round restaurant and pub featuring delicious food and a great pumpkin ale. Check out their brunch menu, stop in for a nightcap after a great day, or visit one of their other locations around the island.
Sunset on the west side of the island comes early in the winter but is stunningly beautiful. Try the Gay Head Cliffs in Aquinnah for optimum viewing.
State Road, one of the islands back country roads, offers leisurely driving and unexpected surprises. Barnes Road and Old County Road take you north and south across the island and
through Manuel F. Correllus State Forest. Fourteen miles of trails await you at Correllus SF, a great place to stretch your legs and enjoy the clean air.
Alley's General Store has been open since 1858 and has everything you need while on the island. Located in Edgartown, the store is open until 6pm in the winter.
Also in Edgartown you will find stores like Portobello Road and Edgartown Books, as well as the Martha's Vineyard Museum. Edgartown is the oldest of six towns on the island, and it is a great place to stop for a few hours, browse the shops, and get a latte at Espresso Love before you hit the road again.
'Gingerbread Cottages' in Oak Bluff will help put you in the mood for the holidays! These bright cottages are decorated in every color imaginable and kids (young and old) will love checking them out.
A premium rental from A-A Island Auto Rental is what you need to cruise the island in style this winter! So whether you want a Mini Cooper or a Jeep Wrangler, contact us today to make your
reservation!