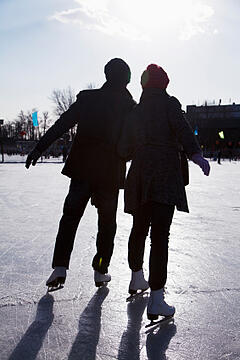 Are you contemplating what you want to do for Valentine's Day 2014? If so, we here at A-A Island Auto Rental would like to suggest a visit to Martha's Vineyard. It's a charming place with its share of Valentine's Day Week 2014 activities. Here is a handful that you may enjoy:
Valentine's Day Card History Lecture (Edgartown)
If you and your loved one are history buffs, a visit to the Martha's Vineyard Museum in Edgartown may prove to be in order. On the evening of Tuesday, February 11th the venue's staff will be hosting a one hour special event dedicated to Valentine's Day cards and their origins. The lecture is expected to start at 5:30 p.m. and admission fees start at $8 per person.
Public Ice Skating (Oak Bluffs)
There are also opportunities to enjoy ice skating with your lover at the Martha's Vineyard Arena in Oak Bluffs. The arena's ice skating rink will be open to the public on February 11th, 13th and 15th in the afternoons. Admission prices tend to range from $2 for children to $15 for a family. Couples may expect to pay around $10. A pro shop and skate sharpening services are available onsite.
Overnight Stay with a Hot Tub (Vineyard Haven)
Would you prefer a romantic overnight stay that includes a soak in a 210-gallon hot tub? Well then, be sure to contact the Thorncroft Inn in Vineyard Haven straightaway. They have well-appointed guest rooms, including one that features direct access to a huge hot tub and working fireplace. Room rates vary and include a fabulous, country-style breakfast.
Romantic Dinner (Vineyard Haven)
Lastly, you might want to enjoy a romantic dinner too. There are many fine restaurants on Martha's Vineyard, including Le Grenier. It's a multiple award winning French restaurant in Vineyard Haven. Both sit-down and take-out menu options are available daily, year-round. Due to its popularity, advance reservations are strongly encouraged.
For more information about the various Valentine's Day Week 2014 activities available on Martha's Vineyard, please contact us at A-A Island Auto Rental. We can help you get around the island in style. Our three Massachusetts locations are open daily, year-round and rental rates are valid for 24-hour hours. Vehicle options include convertibles, 4-door sedans, mini-vans, SUVs and Jeeps.