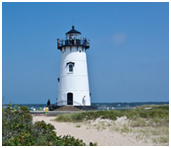 Long considered a romantic part of American history, lighthouses are an integral part of Martha's Vineyard's resplendent landscape. As such, many visitors book island car rentals and head out in the hopes of seeing the iconic structures up close.
If you long to do the same, we can provide you with a clean, fully fueled vehicle and directions to the following beauties:
Gay Head Lighthouse (Aquinnah)
One of the most internationally known lighthouses in Martha's Vineyard has to be the Gay Head. If you wish, blame the structure's popularity on its antique Fresnel lens, stunning views and connection to some of American history's most important men. We don't mind, just as long as you enjoy your visit.
Cape Poge Lighthouse (Chappaquiddick Island)
Our island rental cars and the Edgartown ferry can also transport you in comfort to Dike Road on Chappaquiddick Island. It's where you will find two attractions of note, the Cape Poge Lighthouse and the Cape Poge Wildlife Refuge. Open year round, the lighthouse is located within the confines of the refuge at the spot known as the Cape Poge Elbow. It's situated just past the Shear Pen Pond. If you love hiking and bird watching as much as you do lighthouses, plan to spend at least several hours there taking in all of the sights. And don't forget your camera.
East Chop Lighthouse (Oak Bluffs)
Another interesting lighthouse that is accessible by island rental cars is the East Chop. Generally accepted as the last lighthouse to be built on the island, it has ties to two interesting men. They are Captain Daggett and George W. Purdy. We don't want to spoil the visit for you by revealing all of their personal history. So let's just say that they are both a true testament to the strength of the human spirit.
Edgartown Lighthouse (Edgartown)
Finally, you won't want to pass the Edgartown Lighthouse by either. It is home to a touching children's memorial, which has been in place for more than a decade. Each year, towards the fall, the memorial is the site of a special ceremony. It's designed for survivors to honor their memories of lost loved ones.
To learn more about renting a car to see these historic lighthouses and other Martha's Vineyard attractions, please contact us at A-A Island Auto Rental. Martha's Vineyard rental car reservations may be made online, in person or by phone. Our toll-free number is (800) 627-6333.