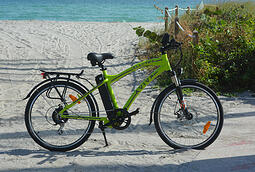 Couples in search of summer romance in Vineyard Haven have a lot of different options to choose from. One of the latest opportunities to come available is our electric bikes. Just like our other transportation related rentals, couples can count on them to look good and function optimally. Half, full and weekly rates are available as well as free hotel delivery.
Those couples that do decide to rent two of our electric bikes may want to take one of the island's cycling trails leading to and from Vineyard Haven as part of a day or weekend adventure. One of the trails starts near our Vineyard Haven rental office, at the ferry terminal. It goes from Water Street to Lagoon Pond and eventually passes through Edgartown. From Edgartown, it continues on through Beach Road, Oaks Bluff and East Chop before looping back to Vineyard Haven.
Along the bike loop are places like Bend-in-the-Road Beach, State Beach, Oak Bluffs Beach, Eastville Beach and Owen Park. They offer couples the opportunity to enjoy a swim, watch the sunset, fish, search for beach glass and picnic under gorgeous, Martha's Vineyard skies. There are also romantic places to stay along the way.
One of our favorites is the Thorncroft Inn. It's a couples' only B&B that's located on Main Street, right in Vineyard Haven. We know it so well that we can deliver our electric bikes, or motor vehicles for that matter, right to the Thorncroft Inn's doorstep. They have a ground floor, corner room there that is simply to die for. It features a working fireplace, opulent furnishings, a hot tub, dreamy shower and a deep, claw foot tub. Both the claw foot tub and hot tub would be perfect places to soak away the bike trail dust at the end of a beautiful, summer's day.
To learn more about our electric bike and motor vehicle rentals in Vineyard Haven, please contact us today. We'd be happy to share our knowledge of the island's cycling trails and romantic spots tailor made for summer visitors.