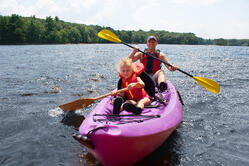 Have you ever taken the time to kayak in Martha's Vineyard, MA? Well what are you waiting for? The weather and water temperatures are fine. Plus, kayak and island auto rentals are available throughout the early fall. Kayak rentals are available in Oak Bluffs, which is where one of our rental car locations may be found. The place to go is called Island Spirit. You'll also find auto rentals at our locations in Vineyard Haven and Edgartown.
We've got several 4-door vehicles that would be great for groups of kayakers. The list includes Jeep Wranglers, Dodge Caravans, Dodge Durangos and Chevy Captivas. The Jeeps, Durangos and Captivas all come with Mp3 inputs and may accommodate at least 5 passengers at a time. So you and your kayaking crew can comfortably listen to customized tunes along the way.
If you and your group of adventure loving friends want to kayak by moonlight, we'd suggest visiting the Felix Neck Wildlife Sanctuary in Edgartown. It offers access to Sengekontacket Pond and guided, evening kayaking tours throughout September. Self-guided tours are available at the same location throughout the fall.
The wildlife sanctuary isn't the only wonderful place in Edgartown to launch your kayaks either. You might also want to try Katama Landing and Great Pond. The landing is at the edge of the harbor and will give you a good view of Chappaquiddick. Great Pond, on the other hand, is a good place to catch sight of waterfowl. It's located off of Meetinghouse Way.
Should you and your kayaking group prefer to visit Vineyard Haven or Oak Bluffs, there are places to consider. One of them is Lagoon Pond. It runs through both communities and provides both residential and commercial views. To learn more about planning a fall kayaking trip to Martha's Vineyard, Massachusetts, please contact us. At A-A Island Auto Rental, our longtime staff can provide you and your group with rental vehicles and additional advice on where to launch your kayaks.