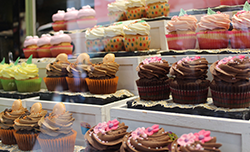 Whether you're a visitor from out of town or you call Cape Cod your home, you won't want to miss heading to Oak Bluffs this season for these delicious treats—and best of all A-A Island Auto Rental of Martha's Vineyard can help can get you there!
Back Door Donuts
Who could say no to warm, mouthwatering late night donuts? Head to the back door of M.V. Gourmet Café & Bakery at 7:30pm to snag delicious donuts from the dozens of batches that bakers are preparing for the rush next morning. Trust us—the line is worth the wait! This sugar heaven is one of best taste experiences on the Vineyard. Not sure which donut to choose? Go for their famous Apple Fritter, a best seller.
Ben & Bill's Chocolate Emporium
Ready for some Lobster Ice Cream? Yep, you heard us right! Ben & Bill's Chocolate Emporium boasts their legendary Lobster Ice Cream—a flavor that has won local's hearts and national praise on Food Network and The Today Show. If crustaceans aren't up your alley, Ben & Bill's Chocolate Emporium has over 64 other flavors of ice cream and gelato. It's the perfect destination to cool off after a fun electric bike ride along the beach.
Murdick's Fudge
Your whole family will be sure to stare in amazement as you watch Murdick's craftsmen pour decadent fudge mixtures onto gleaming marble tables to be blended to perfection. Whether it be chocolate, vanilla, peanut butter, or rocky road, Murdick's fudge and brittle is always made on the premises and the same amazing recipes have been used since 1887. Plus, if you develop a slight addiction while you're here, not to worry, Murdick's ships mail orders too!
Nancy's Snack Bar
Fancy an adult dessert while the kids are playing at the arcade? Stop by Nancy's Snack Bar for their famous Dirty Banana. A frozen mix of bananas, chocolate, vodka, Bailey's Irish Cream, and a few secret ingredients, this delicious cocktail is a Martha's Vineyard favorite. Top it off with some whip cream and cherries and enjoy sipping it while watching the boats sail by at Nancy's Snack Bar right by the harbor's dock.
Contact us any time for more information on enjoyable (& delicious!) destinations on Martha's Vineyard. Whether it's by Jeep, island electric bike, or a large SUV to fit the whole family, we'll make sure you get there with ease.