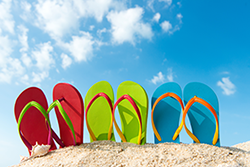 What to do when the temperatures heat up! Martha's Vineyard is an island south of Cape Cod. It's the third largest island on the East Coast after Long Island and Mount Desert Island. It's also the largest island not connected to the mainland by a bridge or tunnel on the East Coast of the U.S. It's accessible only by boat or air.
For years, visitors have flocked to Martha's Vineyard because of its unique beauty and charm. You won't find any chain hotels here; each one is unique and welcomes you in its own way. And that sets the tone here—everything is unique.
If you're planning a visit in the spring and summer, and you're looking for things to do, look no further. There are plenty of fun activities waiting for you at this New England paradise.
Beaches
There are numerous public beaches along the north shore that are kid-friendly because there are no waves. The ocean beaches on the south shore are more popular with teens.
Want to have a clambake on the beach? You can have food prepared right there on the shore—with catering services from The Kitchen Porch, Chefworks, Bill Smith's and other local caterers.
Scenery
Many visitors love Martha's Vineyard for the breathtaking natural beauty. There are five historic lighthouses to discover. Hiking trails enable you to capture amazing views you won't see anywhere else. The Long Point Wildlife Refuge has been called a magical hike through pretty vegetation, a trail that leads straight to the beach.
In Menemsha Hills, you'll experience the scenery of this 211-acre preserve. Climb to the top of the second highest point on Martha's Vineyard for incredible ocean views.
Day or night
Are you an early riser or a night owl? Whatever your vacation style, you'll find plenty of activities. Enjoy moonlight kayak tours, LED standup paddle boarding with disco lights, wind surfing and boarding, daytime fishing, year-round road races, bicycling along forest trails, classic aviator plane rides in the Red Plane, sunset sails, horseback riding, golfing and tennis.
Why rent a car?
There are six towns on Martha's Vineyard—Edgartown, Oak Bluffs, Aquinnah, Chilmark, Vineyard Haven and West Tisbury. With all there is to do and see on Martha's Vineyard, it helps to have a car to get around and see the sights, exploring the island towns at your own pace.
Renting a car is more cost-effective than hauling your own vehicle on the ferry. It's also more convenient, because you'd have to secure your ferry reservation very early to be able to take your car with you.
A-A Island Auto Rental is conveniently located close to the ferry dock in Vineyard Haven, with another location near the ferry in Oak Bluffs. We offer a wide variety of vehicles to get around the island—from convertibles and Jeeps to SUVs and four-door sedans. Renting a car from us is easy and affordable. After all, having transportation lets you enjoy a stress-free, worry-free vacation!
Spring is a great time to visit Martha's Vineyard—the traffic and parking are usually very good this time of year. So when you plan your trip here, be sure to make us part of it.
A-A Island Auto Rental. Contact us today!