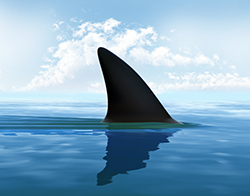 This year marks the 40th anniversary of the filming of the classic movie, Jaws. There won't be a JawsFest this year as there was to mark other past Jaws anniversaries. But on June 20, the Martha's Vineyard Film Society hosted Jaws screenings at the recently renovated Capawock Theater and Strand Theater.
Mike Haydn made an appearance at the event. (He was the guy playing guitar on the beach in the opening scenes of the film.) If you missed this event, never fear. There are Jaws tours of the island where they'll show you where scenes were filmed.
A brief history
As with all movies, many things needed to come together to make Jaws a reality in 1975. A bartender in Fort Lauderdale, Florida, told the production designer, Joe Alves, who was scouting locations for the film for Universal, that Martha's Vineyard would be a good place to shoot it.
After the shark was designed, they needed water that was around 25 feet deep, a bay with a clear, unobstructed view, and a small tide change. Why? The shark was designed on a platform with a crane arm. If the tide was too high, you couldn't see the shark. If it was too low, you could see the crane. Maine had a tide change that wasn't suitable. Further down the New England coast, the tide was calmer. And equally important, the crew was looking for a village.
The author of the book, Peter Benchley, was asked if he had a place in mind when he wrote it. And he named some boating communities in Connecticut. Alves asked about Cape Cod, and Benchley suggested he go to Nantucket where his parents lived.
The ride to Nantucket had such bad weather, the ferry was canceled. They decided at the last minute to go to Martha's Vineyard, only five miles away.
When they explored the island, Oak Bluffs had SO much character he thought it might not look like "any town" in New England. Edgartown was chosen because of its pristine look and feel, with Georgian architecture and picket fences. Menemsha was selected as a perfect spot to put Quint's shack, and right between Edgartown and Oak Bluffs was a large bay with a perfect 25-foot depth and a two-foot tide. The rest is history.
Fun facts
Steven Spielberg liked to cast a lot of local people in his films. And with Jaws, he had a medical examiner who was a real-life physician, real boat handlers and selectmen. So they didn't have to act; they were just playing themselves.
In the movie, "Amity Island's" newspaper building for The Amity Gazette, is actually a building in Edgartown.
Walter Cronkite had a boat in Edgartown Harbor and was fascinated watching the film being shot.
When Joe Alves, the production designer, asked Peter Benchley's father about Martha's Vineyard as a place to film the movie, he said he didn't think there was anything there!
If you're a Jaws fan visiting Martha's Vineyard, you may recognize many of the locations where scenes were shot. To see the various locations, as well as all the great attractions on Martha's Vineyard, you'll want to get your transportation from the premier car rental company on the island—A-A Island Auto Rental with two convenient locations near the ferry docks. Contact us today!