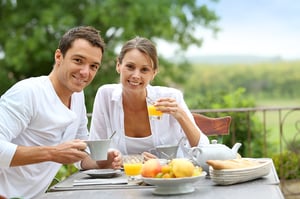 Where to start your day. . .before you play!
When you vacation on Martha's Vineyard, you'll never go hungry. And each day begins with breakfast by the sea. . .Where you go is up to you!
Many of the fine hotels and inns on the island offer their own dining and continental breakfasts, but when you want to get out and explore, here are some of the top spots:
Espresso Love in Edgartown
This is a hot spot for coffee, as well as the occasional celebrity sighting. So don't be surprised if you see a famous face or two here. Open year-round, Espresso Love offers gourmet menu items, from a breakfast burrito with egg, onion and pepper, to a spinach, tomato and feta quiche. Inside there's a market that sells ground or whole bean coffee, blended with Colombian and Kenyan beans.
MacPhail's Corner Café in Edgartown
If you can't start your day without coffee, check out their gourmet coffees and lattés—Caramel Mocha, Toasted Marshmallow and Vanilla. Or to really wake up, grab a double shot of espresso, a cappuccino, or any of their other aromatic coffees. Not a coffee drinker? Never fear. They offer a variety of gourmet leaf teas. MacPhail's makes freshly baked muffins every day. And try their bacon, egg and cheese on a toasted, buttered bagel, also baked fresh daily. They serve lunch, too.
Among the Flowers Café in Edgartown
This seaside hangout serves breakfast all day long. Their signature dishes include a smoked salmon omelette, as well as mouth-watering waffles and crepes. The inviting, cozy ambience is a plus that makes it a favorite with visitors.
Dock Street Coffee Shop in Edgartown
This is a family-owned and operated jewel of the island, perfect for those who love to check out local diners. If you want great food over fanciness, this is your place. Classic breakfast fare is served super-fast with a personal touch. Enjoy a delicious egg sandwich and real home fries—you can't go wrong no matter what you order!
Humphrey's Bakery and Sandwich Shop in Vineyard Haven
For more than 50 years, this bakery has been THE place to go for doughnuts on the island. Taste what you've been missing. Sample their award-winning baked goods, including gourmet ginger snap cookies!
Little House Café in Vineyard Haven
This is another local favorite with baked goods you'll be talking about long after your visit. Have a scrumptious muffin or scone with your coffee. Try banana nut bread, blueberry muffins or cranberry orange scones.
Linda Jean's Restaurant in Oak Bluffs
The coffee is always pouring at this quaint family diner. Serving American-style food since 1976, the restaurant is known for fresh seafood omelettes, superb pancakes and tasty home fries. They also have healthy and gluten-free options.
Biscuits in Oak Bluffs
Do you like fluffy, warm biscuits? Or biscuits smothered in gravy? Or are you in the mood for a homemade waffle or French Toast? You've come to the right place! If it gets too crowded, you can always call in your order to go!
This is only a sampling of the great dining you'll find on Martha's Vineyard. Keep checking our blog for more local favorites!
Let A-A Island Auto Rental help you get around to see all the sights and attractions. Contact us today!