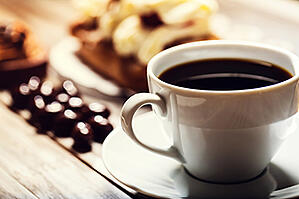 Five Great Places to Find the Perfect Cup of Joe inEdgartown
Want to start every morning of your vacation with the perfect cup of coffee? Nothing gets your day off to a better start than the quaint coffee shops and cafés you'll find on Martha's Vineyard. Read on to find out why Edgartown is a great destination for coffee lovers!
Espresso Love in Edgartown
Open year-round, this is a place where some of the regulars are celebrities, so don't be surprised if you spot a familiar face. Here you can enjoy a breakfast burrito or a spinach, tomato and feta quiche. There's also a market that sells ground or whole bean coffee—Colombian and Kenyan beans are combined to blend the perfect cup. And don't forget to pick up a t-shirt to commemorate your stay.
MacPhail's Corner Café in Edgartown
Enjoy lattes in a variety of gourmet flavors—Caramel Mocha, Vanilla, or Toasted Marshmallow. If you want something stronger, grab a double shot of espresso, a cappuccino, or any of their other delicious coffees, from mild to dark roast. There are even gourmet leaf teas for the tea drinkers in your family. And if you're hungry, MacPhail's serves breakfast and lunch, too. For breakfast, they make fresh muffins every day. Or if you prefer, get a bacon, egg and cheese on a toasted, buttered bagel, all bagels baked fresh daily.
Dock Street Coffee Shop in Edgartown
You know it's a good sign when a place is packed with locals. Visitors to this coffee shop call it the best diner or "little gem" on the island. They serve breakfast standards in a fun, old-time counter atmosphere—a vintage-style coffee poster reads: "If you're not shaking, you need another cup!" The coffee keeps pouring while you watch your breakfast being prepared right there. It's a welcoming place to go and listen to the locals swap stories.
Behind the Bookstore in Edgartown
This upscale bistro welcomes you with a garden and a canopy of trees, offering a relaxing setting to enjoy gourmet coffee and other tasty treats. Choose from espresso, matcha, Turkish coffee, machiatto, iced freddo cappuccino, and hot or iced chai and lattés. After browsing the bookstore, take your book and enjoy the patio atmosphere of this quaint spot that's literally behind the bookstore!
Toccopuro in Edgartown
For the self-described "coffee snob," this is the place to find carefully crafted gourmet coffee. Rich and flavorful, their coffee selection includes both hot and iced brewed—both getting rave reviews. And breakfast offerings range from blueberry scones to fresh eggs. For true coffee lovers, this is definitely a favorite on the island.
If you'd like to explore coffee shops and breakfast bistros beyond your hotel or inn, you'll want a comfortable rental vehicle to get around town.
Let A-A Island Auto Rental be your guide to all the good stuff! We provide transportation around the island so you can get to every attraction easily. Contact us today!