How to keep the kids happy on your next vacation!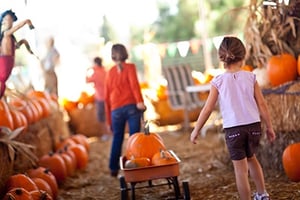 Martha's Vineyard offers plenty to do for families big or small. Here are just a few great ideas we've compiled to keep everyone happy during your stay on this magical island!
Ride the Chappy Ferry.
Enjoy up-close views of the harbor when you ride the ferry from Dock Street in Edgartown to Chappy. Snap lots of pictures, especially at sunset. You can even make a stop at Chappy Point Beach to do a little fishing. It's a short trip, so it's also good for younger children.
Get ice cream!
If you spend a day strolling and shopping, and the kids get tired, stop in for some ice cream at Mad Martha's. Located on Water Street in Edgartown, this is a perfect spot to bring your kids. The ice cream is homemade, with flavors like cookie dough, blueberry and Snickers. Be warned—whatever you order, you'll get very generous portions.
Take a ride on the Flying Horses Carousel.
Carved in 1876, this is the oldest operating carousel in the world. It was restored by the Martha's Vineyard Preservation Trust. Located in Oak Bluffs, the carousel has been a treasured landmark for centuries—also declared a National Historic Landmark. Go for a ride on this, and make another great family vacation memory.
Pet an alpaca.
Visit Island Alpaca in Oak Bluffs and get up-close and personal with these furry friends! The kids will love petting them, and there's also a gift shop. Admission is $5 per person during the season. Off season, donations are appreciated.
Go berry picking.
The Mermaid Farm and Dairy is a 35-acre farm in Chilmark. It started as a local vegetable farm, selling tomatoes and salad greens. Now it's a favorite attraction that also sells raw milk, meat, yogurt, and you can pick your own berries. If you'd like to get the kids out in nature and off their phones for a while, this may be a great option.
Go hiking on a nature trail.
Looking for more ways to get the kids outdoors in the sun, you can take them on a guided nature walk at the Long Point Wildlife Refuge in Vineyard Haven. You'll experience the island from a different perspective, and there's no telling what you'll see along the way!
Try saltwater fishing.
Charter a boat and teach the kids how to fish! There are many places around the island where you can do this, and whether or not you catch anything, the scenery is priceless!
Spend some time at The Lighthouse Beach in Edgartown.
This beautiful landmark is a must-see while you're on the island. You can climb the lighthouse, take the kids crabbing, or go for a seaside stroll and take photos. It's easy to get to from many hotels in the area, and the kids will love it.
Play some mini-putt golf.
Island Cove Mini Golf in Vineyard Haven features gardens, waterfalls, even a rock-climbing wall and a snack bar. It's lots of fun for the whole family!
When you plan a family vacation to Martha's Vineyard, let A-A Island Auto Rental be your guide to all the good stuff! We provide transportation around the island so you can get to every attraction easily. Contact us today!