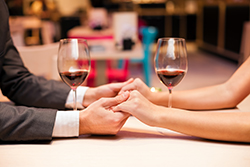 What the Locals Know
August is the busiest month on Martha's Vineyard. And Labor Day weekend is the most popular weekend besides Fourth of July. If you're planning a vacation but don't want to battle the crowds, consider visiting the island during the off-season, when hotel rates go down significantly and the crowds have scattered to the winds. The off-season is recommended for those who are looking for a quiet, calm vacation away from the hustle and bustle for a while.
But if you're up for traveling with other tourists and a high-energy atmosphere, you may not mind a trip to Martha's Vineyard in the summer. The weather is mild, and the water is warm. But when you go, follow some of these tips to avoid waiting in long lines and being able to get to the attractions you want to see.
Head 'up island'
The up-island towns of Chilmark, West Tisbury and Aquinnah are the best spots for fewer crowds and more breathtaking scenery that evokes the maritime history of the island. Menemsha Beach is considered the most romantic, a perfect place to have a picnic or hold hands as you watch a sunset that often gets applause.
What you'll get from a visit up-island is a more rural experience, with plenty of ocean and countryside views. You can go hiking, biking and discover trails that lead straight to beaches. If you want to check out the weekly Farmer's Market, plan a visit to Chilmark. And don't miss the Agricultural Fair in West Tisbury.
You may still encounter busy restaurants during this time, even in these towns. But it will likely be less congested than the more compact, tourist towns of Edgartown, Oak Bluffs and Vineyard Haven.
Remember, to visit the towns that are up-island, you'll need a rental car. So be sure to make a car rental reservation as soon as you can when you plan your trip to Martha's Vineyard.
See other attractions
Even though you may want to see some of the most popular tourist attractions, such as the Gingerbread Cottages of Oak Bluffs or the U.S.'s oldest operating carousel, be sure to also make time for some more natural attractions, like amazing beaches. The Gay Head Lighthouse is a must-see, and definitely should be seen at sunset!
The Gay Head Cliffs are also a sight to behold, and great for photographers. The beaches are unspoiled with fewer crowds and lots of natural beauty to take in.
If you're staying in one of the busier down-island towns—Edgartown, Oak Bluffs and Vineyard Haven—consider trying some of the favorite local spots. Before you go, make a list of highly rated restaurants and cafes that are off the beaten path. In this blog, we've included some local diners, ice cream places and other great spots that are favorites among the island's residents. Sometimes there are fewer, or shorter, lines at these places because crowds may flock to more of the tourist areas. If you do your research ahead of time, you could find some real gems and avoid the headache of battling crowds.
These are just a few tips to make your summer travel more enjoyable and get the most out of your next visit to Martha's Vineyard! Keep checking our blog for more great tips!
To get around Martha's Vineyard easily, don't forget to contact A -A Island Auto Rental, your number one choice for car rentals on the island. Make your reservation today!