Stay at a True Gem on Martha's Vineyard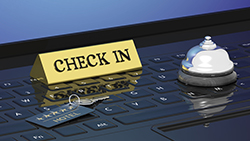 Looking for a place to stay where you can truly get away from it all? Lambert's Cove Inn blends historic charm with timeless elegance to create a really memorable experience. Relaxing and fun, all the things that a vacation should be. You'll find them here.
The Location
Lambert's Cove is situated along the rolling countryside of West Tisbury. The second largest town on Martha's Vineyard, West Tisbury is considered to be less touristy, but offers a number of beautiful attractions and great restaurants. The beaches here are among the most stunning on the Island, and nature's bounty can be found everywhere, from wildlife preserves to rich farm land.
The Inn
After you wind along a curvy wooded road, Lambert's Cove Inn welcomes you with a stately, yet inviting appearance. A restored farmhouse from 1790, Lambert's Cove Inn offers 15 beautifully updated guest rooms, as well as a host of other amenities. You won't find any other location like it on the Island—with eight acres of sprawling gardens, forests and farm land.
Rooms
Rooms are located in the main farmhouse and in a restored barn and stable dating back to the 1800s. Every room offers cozy comfort, yet each one is different. The décor is generally rustic, yet modern, with tasteful appointments and even a framed picture of an alpaca to greet you! Every room comes complete with modern amenities, including Wi-Fi, cable, a mini-refrigerator, hair dryers, iron and ironing boards and more.
Amenities
When you plan to stay in West Tisbury, you'll want to visit the beach. As a guest of the Inn, you'll enjoy daily passes to a couple of the most private beaches—Lambert's Cove Beach and Ice House Pond. Lambert's Cove Beach boasts amazing sunsets, and a Caribbean-like feel. Ice House Pond is a natural swimming hole that was made for swimmers.
As a guest of the Inn, you'll also have access to an award-winning restaurant with a renowned chef who creates some of the most memorable dishes. You'll enjoy a swimming pool and hot tub, tennis courts and a general store that sells gifts and other goods obtained locally. There is complimentary on-site guest parking, as well as sprawling lawns for families to play games. Indoors you'll find a lounge with more games and a shuffleboard table for those rainy days. On a chilly night, come sit in one of the Adirondack chairs around the fire pit.
For nature lovers, you'll appreciate the flower gardens, not to mention the farm with chickens and Alpacas, too! There's plenty of inspiration, as well as activities, when you're ready to play!
Lambert's Cove enjoys a scenic, country landscape. If you want to visit other attractions on the Island, it's a good idea to have your own transportation, so you can get around wherever you like, on your own schedule. Choose a convenient rental vehicle at A-A Island Auto Rental, so you can explore all the Island has to offer! Contact us today!