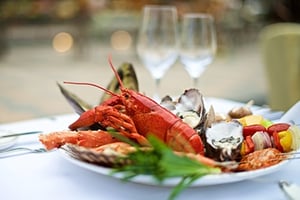 Local Companies on Martha's Vineyard
Support Businesses You Can Only Find On the Island
When you visit Martha's Vineyard, you'll want to sample some local island products that are actually made right here. It's good to support local business owners, and you can find many of them at the West Tisbury Market. If you can't make it to the Market, several of their products are also available in local stores and restaurants. So check out local products—they make great gifts, or pick up some for yourself!
Austin Designs
Looking for a gift for that someone who seems to have everything? Consider some of the luxurious, therapeutic accessories made by this local company. Know someone who needs to de-stress? Discover their 100% cotton herbal heat packs and eye pillows, as well as handmade accessories like bags and scarves. Natural herbs found on Martha's Vineyard and in California are used to make many of their products, so you know you're getting the real deal.
Bluewave Body Company
Pamper yourself or a special someone with all-natural bath and body products. They offer everything from facial products to hair care and cosmetics. The fresh ingredients, some made right from the seashore, will make you feel invigorated and beautiful. One of their specialties is Girl Body Butter Bliss, which combines all-natural oils and butter, including beach grass oil and wild rose. And they didn't forget about the men—they also have men's grooming products as well.
Martha's Vineyard Sea Salt
Manufactured by Down Island Farm, these special salts are a tasty enhancement to your cooking and baking, whether you're going for salty or sweet. Using the same methods as the early island settlers, they actually evaporate the ocean water—so you're getting salt straight from the Atlantic. Some of their flavors include Smoked Oak, which is smoked salt and island oak; Blueberry Honey, which features freeze-dried blueberries and honey; and many others. Try some to add that special touch to your next dish!
Chilmark Coffee
Bring home a bag of some of the best coffee you've ever tasted—brewed locally by coffee gurus. They use coffee beans from Ethiopia, Guatemala and Columbia, with rich roasted flavors to make a most memorable cup. Their coffee is available in restaurants on the island and area markets as well. It's the perfect take-home souvenir from your stay on the island!
Mimi's Hittin' the Sauce
In addition to their super clever name, this company boasts a sizzling line of hot sauces made right on Martha's Vineyard. They offer two levels of hot sauce: "Hacha" and "HaChaChaCha!" They also make a salsa that features fresh tomatoes and peppers locally grown on the island. If you like it hot, this is your new favorite sauce. Ask about their pepper jelly, too!
Check out more locally-owned companies and owner profiles at The Vineyard Blog.
And when you plan your next family vacation to Martha's Vineyard, let A-A Island Auto Rental be your guide to all the good stuff! We provide transportation around the island so you can get to every attraction easily. Contact us today!