Romantic Getaways on Martha's Vineyard 2018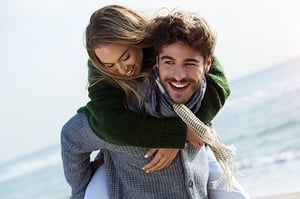 Stay in or dine out!
Spring is here, and romance is in the air. Martha's Vineyard is the perfect place to get away for some alone time. Here are some ideas for places to stay and dine out, for a perfect romantic getaway!
Romantic Inns on Martha's Vineyard
Thorncroft Inn – Vineyard Haven
Voted "Most Romantic Inn on Martha's Vineyard," this bed and breakfast has it all. When you stay here, you're just one block from the ocean for romantic moonlit walks. Or you can stroll the sprawling grounds. Thorncroft has a rich history, with construction beginning in 1908. But today's rooms feature luxurious modern amenities, including hot tubs, two-person whirlpools and fireplaces. (This is the only inn on the island with in-room hot tubs.) Other conveniences include high-speed internet, even complimentary breakfast in bed. The Inn's renowned concierge service will give you insider tips on finding the most secluded beaches on the island, as well as other attractions.
Menemsha Inn - Chilmark
With a scenic, secluded island location, this inn really sets the stage for romance. It's situated on 14 acres of gardens and fields with breathtaking views of Menemsha Harbor and close proximity to Lucy Vincent Beach. Choose from a variety of charming rooms and cottages with fireplaces and screen doors. Other amenities include a free daily breakfast, free Wi-Fi and free parking. You'll enjoy plenty of privacy, but even in the public spaces, you'll find a cozy charm with things like front porch rocking chairs to take in the views. The Menemsha Inn provides a rustic, romantic ambience with an idyllic location and lots of island charm in every room.
The Beach Plum Inn and Restaurant - Chilmark
If you're looking for a little serenity to get away from the daily grind, you'll feel so relaxed at this welcoming inn. Its up-island location gives you a secluded feeling with gorgeous views. You'll enjoy French-country style décor and charm in every room, and private patios that feature hammocks where you can relax and take in views of the harbor. While you're there, be sure to sample the gourmet cuisine of the renowned Beach Plum Inn restaurant, with sunset views that will make your special getaway even more memorable.
The Harborside Inn - Edgartown
The Harborside Inn has welcomed visitors to Martha's Vineyard for more than 50 years. It's comprised of seven buildings, many of which were 19th century whaling captains' homes. The Inn provides the conveniences of a first-class resort, all set against the historic backdrop of a quaint seaside village. The only waterfront resort in Edgartown, this inn gives you the best of both worlds. Rooms have private balconies that overlook the water, while others have views of the charming village side streets. When you arrive, you'll feel like you stepped back in time with white picket fences and English gardens lining the sidewalks of this quaint town. It's an ideal romantic getaway, with a heated pool, sauna, whirlpool and more.
Romantic Restaurants on Martha's Vineyard
L'Etoile Restaurant - Edgartown
Nestled in a historic restored home of a whaling captain, this elegant restaurant invites you in with its cozy atmosphere and gourmet dining. The menu is filled with inventive entrees, from grilled duck breast to grilled lobster. And desserts are only for serious dessert lovers. Espresso-Amaretto Crème Brulée, anyone? There's an extensive wine and cocktail list as well. So when you and your significant other are ready to dine, be sure to experience a real night out here.
The Port Hunter – Edgartown
If you're looking for a more casual, fun atmosphere, The Port Hunter offers a lively atmosphere with brick accents and a hopping bar. There's live music, while you enjoy your food and drinks. The food has gotten rave reviews, especially the many seafood dishes they have. It's a great spot to relax and have fun, listening to music and enjoying a memorable night out.
Détente – Edgartown
Chic dining and outdoor ambiance make this a romantic favorite. Beef tenderloin, Chatham cod, and lobster and crab risotto are among the innovative dishes available. They consider their menu to be American fare with a European influence, featuring fresh local seafood and homemade desserts. You can dine upstairs in a cozy setting, downstairs dining room, or on the lovely garden patio.
Whether you're planning a romantic getaway or family vacation to Martha's Vineyard, A-A Island Auto Rental is your source for transportation around the island. Contact us today and start planning your next getaway!