Hit the Beach!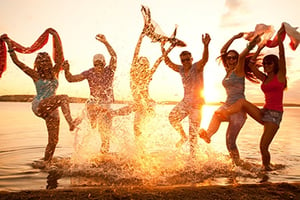 Memorial Day weekend means the beginning of summer, and Martha's Vineyard is one of the top vacation destinations during this time of year. Whether you're planning a couples getaway or a family fun time, there's no better place to hit the beach this summer!
South Side Beaches
The south side of the island is known for monster waves that surfers love. This is the place to be for all kinds of exhilarating water sports.
North and East Beaches
The north and east sides of the island are especially family friendly, with shallow, calmer waters for kids to enjoy, not to mention the amazing scenery that the adults will appreciate.
Whichever side of the island you choose, you will have breathtaking views at the beach. But keep in mind that while some beaches are open to the public, others are only open to residents or summer visitors who are staying in nearby towns. Before you head out to the beach, check to make sure that you are going to one of the many accessible beaches that are open to the public.
Here is just a sampling of beaches you'll want to experience:
Gay Head Public Beach (Moshup Beach)
This one is for the surfers in your group. A favorite beach in Aquinnah, this scenic spot is about a ten-minute walk over a trail. And it's worth the hike. Once you get there, you'll discover dramatic surf and beautiful surroundings. There is a $15 parking fee in the summer.
Menemsha Public Beach
If you're staying near the north side, this is the beach to bring the family. Next to the famous Menemsha Harbor, this beach has some of the clearest bright blue water you'll find on the island.
Lobsterville Beach
This local fishing spot offers two miles of natural beauty with rolling dunes along the shoreline. Nature lovers will note the seagull nesting area located here, as well as other colorful wildlife. You can't park on Lobsterville Road, but the beach is open to everyone.
Katana Beach
If you're staying in Edgartown, this beach gives you three miles of barrier beach on the south side. On one side is great surf to enjoy, and on the other is a protected salt pond. This beach is open to all, and vehicles with permits are allowed on marked trails.
Oak Bluffs Town Beach
Visitors to Oak Bluffs enjoy the calm waters of this beautiful beach. It begins near the Steamship Authority dock and ends at the first jetty toward Edgartown. Oak Bluffs Town Beach is open to everyone.
Joseph Sylvia State Beach
Another one located in Oak Bluffs, this beach gives you two miles of clear, mild water and great views. You'll find it along Beach Road between Oak Bluffs and Edgartown. It's accessible by bike path and is open to all.
Keep checking our blog, because we'll have all kinds of fun summer attractions and activities on Martha's Vineyard!
When you plan your next family vacation to Martha's Vineyard, let A-A Island Auto Rental be your guide to all the good stuff! We provide transportation around the island so you can get to every attraction easily. Contact us today!