Discover Quaint Bed and Breakfasts on Martha's Vineyard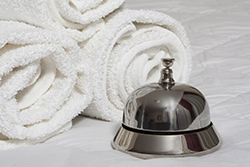 There are 25 bed and breakfasts on Martha's Vineyard, each offering a welcoming, memorable experience for couples and families. If you're looking for a truly historic experience that captures the look and feel of old Martha's Vineyard, look no further than the award-winning 1720 House. When you visit the 1720 House, it's like stepping back in time. From the outside, it looks like a stately Victorian home. Interior rooms are cozy and inviting. When you stay here, you'll enjoy the quiet charm and quaint décor of a bygone era, with regal architecture and pristine gardens surrounding you. The inn is nearly 300 years old, and was the residence of many generations of island families.
Location
Nestled in the heart of historic Vineyard Haven, the 1720 House is located within walking distance to the new arts district, the ferry terminal harbor and many of the wonderful attractions that you come to the island for.
Vineyard Haven is a quaint seaside village, offering everything from casual to elegant dining, coffee shops, art galleries, boutiques and more, all overlooking the harbor. The town is known as a sleepy seaside town, with a more relaxed pace for strolling and appreciating the scenery. You'll love the water views as you browse the shops and attractions.
Rooms
Even though the inn preserves its unique history, it also blends modern conveniences with the charm of yesteryear. Each room comes equipped with modern amenities, including wireless internet, television, air-conditioning and other comforts for your convenience. Choose from a variety of themed rooms, including The Lincoln Room, which features a queen-size bed and a full, private bath. This room also features a fireplace, a sitting area for reading a good book, a television and a location that offers breathtaking views of the harbor. Conveniently located on the first floor, the Lincoln Room is the largest room in the house.
Another possibility is the Garden Room, featuring a canopy-style bed with a private en suite bathroom, sitting area and other amenities. This room has a quiet, secluded feel with a second-floor location. Other rooms offer unique features and views. So browse their website at your leisure to find the accommodations that best suit your needs.
The whole house can also be rented for special events. (Ask for more details.)
Amenities
When you stay at the 1720 House, you'll be treated to a lovely continental breakfast every morning. Enjoy delicious coffee, homemade breads, fresh fruit and so much more. The innkeepers are known for their attentive service, making every guest feel extra special. And they are very knowledgeable about the island, so they can give you helpful information to make your visit to Martha's Vineyard the best it can be.
When you plan a family vacation to Martha's Vineyard, let A-A Island Auto Rental be your guide to all the great attractions! We provide transportation around the island so you can get to your accommodations easily. Contact us today!