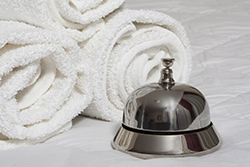 Discover Quaint Bed and Breakfasts on Martha's Vineyard
When you're staying in Edgartown, Kelley House offers an inviting ambiance and luxurious amenities from an ideal location in the heart of town, just steps from the water. Originally built in 1742, today the Kelley House has an abundance of historic charm, while offering modern amenities as well.
Location
The Kelley House is centrally located near all of the many attractions of Edgartown and within minutes of the harbor. You can walk to nearly everything, and some local tours begin right around the corner. Many guests have also enjoyed the location as a base before exploring other parts of the island.
Rooms
The Kelley House is comprised of four quaint houses and cottages that offer tastefully appointed rooms and amenities to suit every family. For instance, the Court House has one-, two- or three-bedroom suites with wraparound porches to enjoy water views. The Wheel House has two-bedroom hotel suites with breathtaking water views from the upper decks. One bedroom has a queen bed, and the second bedroom has two twin beds, plus a pull-out sofa in the living room. Many suites include kitchens and washer and dryer. Depending on your family's needs, you'll be able to find accommodations that have exactly what you're looking for.
All hotel rooms and suites have been recently renovated with modern décor and all the amenities you're looking for, including complimentary WiFi.
Amenities
Go for a dip in the pool and enjoy a cocktail from the poolside Wave Bar. Have a drink and get a bite right from your lounge chair!
After a day of shopping and sightseeing, stop in to a classic Colonial pub, The Newes from America Pub. Named by Travel+Leisure as one of the best places to eat on Martha's Vineyard, this charming pub serves up American and British pub-style dishes, from Bangers & Mash to Fish & Chips. Enjoy an array of New England draft beers. There's also a menu for the kids and micro-brewed draft root beer just for them! There are no reservations, so stop in anytime for a visit!
Before you leave, be sure to take a look in the Kelley House Gallery, a collection of art work depicting scenes from around Martha's Vineyard. Showcasing the work of eleven local artists, the Gallery features framed prints on the walls, as well as a rotating set of digital photographs on display in the lobby—all are for sale and can be customized to the size and frame of your choice. So you can take home a souvenir of your stay and support the work of local artists as well.
If you're looking for a charming, historic hotel that offers casual, relaxing accommodations in the heart of Edgartown, you'll want to pay a visit to the Kelley House.
When you plan a family vacation to Martha's Vineyard, let A-A Island Auto Rental be your guide to all the great attractions! We provide transportation around the island so you can get to your accommodations easily. Contact us today!