There's Always Something Going On in Every Season!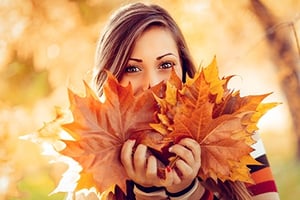 Autumn colors, a chill in the air, fall festivals. . . It's a perfect season to visit Martha's Vineyard. Your fall escape begins with a scenic ferry ride, followed by exciting attractions and captivating beauty you'll always remember.
During September and October on the Island, the crowd gets thinner, and the nights are cooler. There are plenty of year-round attractions and businesses that stay open, and you can even enjoy more discounts than in the peak of the summer tourist season.
Like the locals, you'll enjoy the quieter streets, and you won't have to stand in long lines at your favorite restaurants. So check out these top 10 things to do this fall on Martha's Vineyard:
Photograph the fall foliage.
This is the time when gorgeous oranges, reds and golds come to life on the Island landscape. It's ideal for photographers and other artists who want to capture the natural beauty all around.
Take a dip in the ocean.
In September, the water is still warm enough for a swim during the day, but by October, you may want to just take a stroll by the water instead.
Catch up on your reading.
If you're a book lover, head to Edgartown Books, a quaint bookstore where you can relax, have a cup of coffee, and catch up on the latest titles. Be sure to stop in to Behind the Bookstore, a backyard café that boasts "the best coffee on the Island."
Shop where the locals go.
Alley's General Store, open since 1858, is THE place to get your groceries, fishing lures, and even some old-fashioned candy. It's open year-round, and the occasional celebrity has even been spotted there!
Travel back in time.
For antique lovers, there are plenty of antique shops on the Island. You can visit Tuckernuck Antiques in Oak Bluffs and discover a lively mix of vintage Island memorabilia. You can also find old postcards and copies of old newspapers and maps. Other antique shops include Past & Presents in Edgartown, Vintage Jewelry in Edgartown, and Able to Cane Antiques in Vineyard Haven.
Have the best cup of "chowdah" on Cape Cod.
Sample a true taste of New England at Martha's Vineyard Chowder Company, voted the "Best Chowder in Cape Cod." You can also order other seafood dishes and sandwiches for lunch or dinner.
Pose for a selfie on the former set of Jaws.
No visit to the Island is complete without a stop at South Beach, which movie lovers already know was the setting where Jaws was filmed.
Discover the Island's history.
Open year-round, Martha's Vineyard Museum is a wealth of information and art exhibits, as well as special events and historic tours. Located in the heart of Edgartown, the museum showcases paintings, sculptures, photography and many other eclectic works from local artists.
Try some Shipyard Pumpkin Ale.
Since this is the season for all things pumpkin, stop in to the Black Dog Tavern in Vineyard Haven (near the ferry dock) for their Shipyard Pumpkin Ale. Even if you're not a pumpkin fan, the locals recommend it, so give it a try! While you're there, pick up some souvenir t-shirts to remember your visit.
Go for a scenic drive.
Spend some time just enjoying the ambience, with a scenic drive down country roads (speed limits no more than 40 mph). Take in the incredible fall foliage, ocean views and lighthouses at sunset. It's a vacation you'll never forget.
Let A-A Island Auto Rental help you find the perfect vehicle to enjoy the scenic views. We offer a variety of vehicles to rent during your stay. It's easy and affordable. Talk to us today!