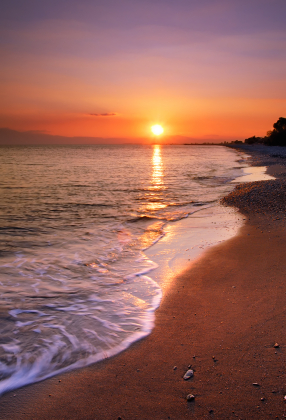 Where to see the Best Sunset on MV
The beaches on Martha's Vineyard leave visitors in awe of their spectacular beauty. They are not only an excellent place to enjoy swimming and surfing, but sunsets as well. So exactly where is the best sunset on MV? The only way to know for sure is to experience a sunset in one of these areas for yourself.
When brilliant Martha's Vineyard sunsets are mentioned, the first place that regular visitors mention is Menemsha Beach. In late evening, the sea turn a dark color, and is brilliantly offset by skies full of vivid pink and orange. It's such a popular spot that hundreds of people gather every evening to enjoy this magnificent feat of nature while also dining on fresh seafood from local vendors.
If you're looking for somewhere a little quieter, Long Point Wildlife Refuge in West Tisbury could be the right place. This nature preserve is somewhat off the beaten path, and consists of a walk through flowered meadows on your way to the beach. There are a number of saltwater ponds with shallow water in them where you can swim while watching the sun set over the horizon. Afterward, you can hang around and frolic for a little while without worrying about fighting the crowds or traffic when getting back home.
The Gay Head Lighthouse in Aquinnah offers sunset tours on Friday, Saturday, and Sunday evenings from June through mid-September. Arrive at the lighthouse at least 1.5 hours prior to sunset, and plan on leaving around a half-hour after. You'll have a unique vantage point from high atop the tower, and can catch a glimpse of the surrounding cliffs as well.
The East Chop Lighthouse in Oak Bluffs also offers sunset tours. These tours take place on Sunday evenings from late June through the middle of September. They begin 90 minutes before sundown, and provide a breathtaking view of Vineyard Sound and Vineyard Haven Harbor. The grounds can also be rented for weddings and other special events, and a gathering held here at dusk can be an excellent way to enjoy a brilliant sunset with friends and family members.
If you're traveling to or from the mainland during late evening, the ferry will provide you with a spectacular view of the setting sun. Plan on traveling during a clear evening if possible in order to enjoy more vivid images. If you go to the upper deck of the ferry, you'll be able to take in a more panoramic view of the sunset than if you were on the lower deck.
Martha's Vineyard is such an enchanting island that you are bound to enjoy breathtaking sunsets no matter what part of it you're on. Renting a vehicle from A A Island Rentals is one of the best ways to get to and from the ideal sunset location. Contact us to secure your reservation today.