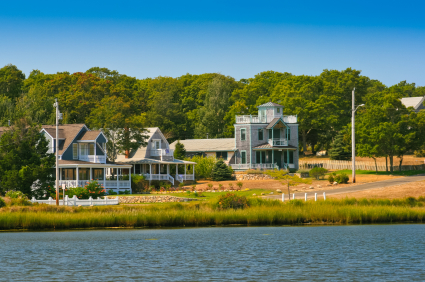 Convenient and charming destination on Martha's Vineyard
Oak Bluffs is a busy entry point to Martha's Vineyard with ferries from several locations bringing passengers to the town. It is rich in history and features many buildings from past centuries as well the famous gingerbread cottages.
Visitors find it the ideal entry point as they have access to car rentals at the ferry port as well as many attractions and accommodations.
Ferries
The port of Oak Bluffs offers ferries from Hyannis, Falmouth, New Bedford and Woods Hole. During the summer months SeaStreak offers a high-speed ferry directly from New York City which includes cash bar, food concessions and TV's for entertainment. Ferry ride times vary by origination location and type of ferry which ranges from 45 minutes to over an hour for farther locales.
Attractions
From shopping on Circuit Avenue to the towns many picturesque beaches, visitors have a wealth of attractions to keep them busy. It is also home to the "Gingerbread Cottages" which were built in the 1800's as retreat lodging for Methodists. They now are a must see for visitors to Oak Bluffs for their Carpenter's Gothic architecture and vibrant colors. Downtown Oak Bluffs offers a wide variety of dining options including locally caught seafood as well as many peddlers of art and crafts. A few other must see attractions while visiting Oak Bluffs are the East Hop
Light, Flying Horses Carousel and Oak Bluffs Campground gift shop.
Accommodations
The city of Oak Bluffs features numerous lodging options dependent on your budget and wanted landscape. The Dockside Inn, Martha's Vineyard surfside motel and Wesley Hotel offers walking access to the local beaches as well as shopping district. The town is filled with rental houses or visitors can rent of the many Gingerbread Cottages offering an eclectic and historical experience.
Events
Oak Bluffs offers visitors a wealth of events with most of them taking place within the warm summer months. June features the annual harbor festival which is the city's largest gathering as well as its Faerie festival. In July visitors can take part in the monster shark fishing tournament or experience the African American cultural festival which features a marketplace, historic exhibits and activities for children. The month of august through the fall month's visitors will find several art shows, firework displays and the wind festival in October featuring kite flying and model airplanes. Throughout the busy summer tourist season visitors will find many local outdoor art, crafts and food vendors scattered throughout the town especially on weekends.
If you would like more information on renting a car upon arriving to Oak Bluffs on Martha's
Vineyard, Please contact us.