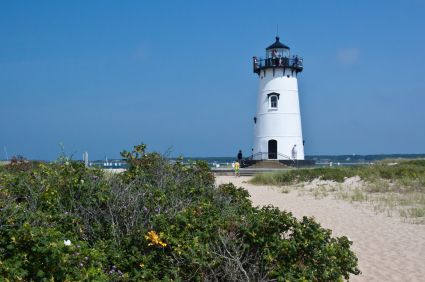 An Oak Bluffs Rental car will help you see the Attractions
Oak Bluffs may be a tiny town of fewer than 4,000 people, but that doesn't mean there's not plenty to see and do here. On your next visit to the island, plan on reserving an Oak Bluffs rental so that you can get out and see all the different sites that are available.
One of the more popular attractions in Oak Bluffs is the East Chop Lighthouse. This historic lighthouse was first established in 1878, and was later automated in 1933. Sunset tours are offered from June through September; however, the grounds this lighthouse is located on is open for public strolling year round. It makes an excellent location for a picnic or for taking pictures in no matter what season you visit it in.
The Joseph Sylvia State Beach features two miles of unspoiled beach near the city of Oak Bluffs. Here, you'll enjoy swimming, building sand castles, collecting seashells, and beachcombing. There's plenty of parking available, and you can feel free to either bring your
own picnic lunch or buy food from one of the many sandwich shops that are located along this stretch of oceanfront.
Another popular beach to visit is Inkwell. This beach is named because it is the scene of a popular romance movie titled The Inkwell. It's only a short walk from the downtown area, and
is also in close proximity to many local hotels. This is a popular area for people to go walking or jogging in during the early morning and evening hours, but makes a nice place for swimming and sunbathing in the afternoon.
A popular beach setting that is surrounded by Victorian mansions is Ocean Park. It features an elegant gazebo nestled in the middle of a grassy area where children can play or the family
can engage in yard games. In the center of this park is a pond that contains lots of geese, and you might enjoy taking pictures of these birds or throwing them a few breadcrumbs as well.
The Oak Bluffs shopping district is located along Circuit Avenue, which contains a number of other points of interest. Here you'll find everything from handcrafted items to hardware along
with a number of inviting restaurants to curb your hunger in. The variety of stores is among the best on the island, yet tends to attract fewer visitors than the shops in Edgartown or Vineyard Haven do.
Trinity Park Tabernacle is a historic house of worship that still holds services from time to time. Even when events are not being held here, you can still peruse the grounds and take in some of the architectural wonder that this ancient church holds. It is an excellent spot to relax in before heading on to other nearby attractions.
If you'd like to see these and other Oak Bluffs attractions, contact us to reserve a car for your next visit here. We're conveniently located at the Island Queen ferry dock, and look forward to serving you.