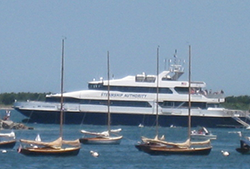 Martha's Vineyard Ferries: Year-Round and Seasonal Ways Through Various Ports
Have you wondered how many Martha's Vineyard ferries are available to easier navigate the various ports in the area? You might be surprised at how many there are here, or at least ones that depart elsewhere and visit the ports seasonally. They're a joy to travel on if you happen to be visiting Martha's Vineyard for the first time.
Keep in mind, though, that there's only one ferry that runs year-round and accommodates cars. All others have to be ridden on your own two feet or on bicycles.
The Steamship Authority Ferry
This is the only ferry operating all year, and it's also the only one that allows cars. It departs from Woods Hole, Massachusetts and takes passengers to Vineyard Haven every day. You have to call in advance to reserve a ride for your car, and it's especially necessary during peak tourist season in the summer. However, it's one of the most scenic rides of the Vineyard Sound you'll find. Expect to ride for a little under an hour based on the seven-mile excursion.
You can find information about fares for your vehicle on the Steamship Authority website. Those fares are going to vary based on the size of your car.
Seasonal Ferries
Numerous other ferries are available, but they only run through the summer months. A popular one that runs from May through October is the Island Queen. This ferry departs from Falmouth,
Cape Cod and arrives in Oaks Bluff. It's a little shorter trip at only half an hour, yet still provides just as beautiful of an experience traveling the sound. As with all of the seasonal ferries, you can't ride in your car, though you can take bicycles. Fares are very reasonable and start at only $20 for a round trip. Kids under four years old travel free.
Also consider the Hy-line Cruises ferry departing from Hyannis, Cape Cod and docking at Oak Bluffs. The Martha's Vineyard ferries in their fleet offer both high-speed and traditional service.
For the high-speed ferry (the Martha), you can expect to only ride from May through October. The traditional line also runs from May through October and has cheaper rates than the high-speed fares.
As alternatives, you also have out-of-state ferries that visit Martha's Vineyard seasonally, mainly during the summers. The SeaStreak departs from New York, and the Vineyard Fast Ferry offers high-speed ferry service out of Quonset, Rhode Island. Both of these take considerably longer and are going to cost you more.
If you need a car rental to book on the Steamship Authority this fall or winter, be sure to use A A Island Auto Rental as your best Martha's Vineyard car rental source. We're here to help you find the perfect car with affordable rates for easy travel around the area.
Contact us and we'll do more than just rent a car to you. We'll be your concierge and personal info service to make sure you visit the best places in Martha's Vinyeard for a truly memorable experience. Whether you live in the United States or Europe, we want you to enjoy this supreme vacation spot to the fullest.