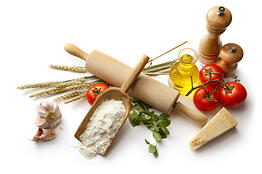 Calling all self-professed foodies! June 2014 is the perfect time to visit Martha's Vineyard, especially if Edgartown and Chilmark are part of your travel plans. Why? Well, it's when two great culinary events will be taking place in those areas. To enjoy them, all you need is an A-A Island Auto Rental and the following information:
A Taste of the Vineyard Gourmet Stroll (Edgartown)
The first foodie approved event taking place on the island in June 2014 is A Taste of the Vineyard Gourmet Stroll. It's a one day, annual event that's slated to begin at 6:30 p.m. on June 12th. The festivities will be taking place in Edgartown at the Old Whaling Church Lawn, which is located on the same street as one of our A-A Island Auto Rental locations. The event is being hosted by the Martha's Vineyard Preservation Society and advance reservations are a must. Included in the event are live entertainment and access to a cavalcade of the island's best foods and beverages.
Farm. Field. Sea (Chilmark)
The second culinary event that's sure to please is associated with Farm. Field. Sea. Considered by many to be a sustainable diner's dream, the Farm. Field. Sea is actually a series of culinary experiences that are scheduled to take place over the summer in Martha's Vineyard. Each experience is different and includes locally grown ingredients, camaraderie and educational components.
The first experience of the summer is set to kickoff at 9 a.m., in Chilmark, on June 14th and run well into the evening. It includes stops at the North Tabor Farm, Honeysuckle Oyster Farm, Menemsha Fish Markets and the Beach Plum Inn. Like the previously mentioned culinary event, advance reservations are required.
Ground Transportation (Island Wide)
To make reservations for your A-A Island Auto Rental in time for these great events, please contact us online or by calling (800) 627-6333. We offer pickup service at two Edgartown hotels as well as Martha's Vineyard Airport pickup services. Plus, our rental locations are located near a multitude of ferries. So it doesn't matter if your coming to the island by air or sea, we've got your ground transportation needs covered.