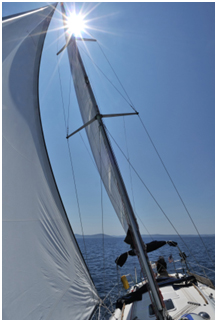 Each year, the Edgartown Yacht Club hosts a series of events towards the end of July. They include the Big Boat Buoy Races and the Round-the-Island Race. The first event is slated to take place on the 24th and 25th. The second is scheduled to go down on the 26th. If you plan on attending, here are a few tips to make your visit to Edgartown more pleasant:
Dine on the Beach - Consider making reservations to dine at the Lure Grill at least once during your stay. In order to access the venue, leave your A-A Island Auto Rental at our Main Street location. Then head to the docks before 6 p.m. and hop aboard the Sunset Water Taxi Cruise. It's a complimentary, 25-minute ride to the restaurant, which is located on Katama Bay's South Beach. During the month of July, they typically serve dinner until 9 p.m. Both children's and adult menus are on offer and all the seasonal foods are prepared fresh to order.
Stay on the Water – Contemplate staying on, or near, the water too. The Edgartown Harbor has moorings available for vessels that are 60 feet or less. However, a two-week minimum stay policy is traditionally in effect during the summer months. If you plan on watching the races and leaving your boat at home, don't despair. There are accommodations in Edgartown with lovely water views. One of our favorites is the Harborview Hotel on North Water Street. And by the way, our pick-up and drop-off rental car services include the hotel. So it's a very convenient place to stay as well.
Hit the Beaches Early – If you plan on taking time away from the races to enjoy a stretch on the sand, be sure to get in your A-A Island Auto rental and head out early. There are four beaches in the Edgartown area and all of them are quite popular. The list of hot spots includes South Beach (Katama), Fuller Street Beach, Lighthouse Beach and East Beach (Cape Poge-Wasque).
Reserve Everything Now – And last but not least, make it a point to reserve your rental car, accommodations and meals now. After all, you won't be the only person attending the Round-the-Island and Big Buoy Boat Races. So it's best to be better prepared for the crowds than the other race attendees.
To learn more about booking your rental car in time for the races, please contact us toll-free at (800) 627-6333. When you do, be sure to ask our staff about the Jeeps. They are air conditioned 4-doors with soft convertible tops. Many people love tooling around Edgartown with them during the yacht club's special events.