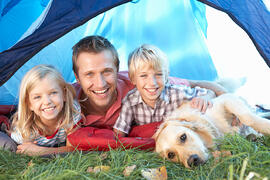 Contrary to what some may mistakenly believe, Martha's Vineyard isn't all about beachfront cottages and New England style Inns. There is also a great place to go camping. It's called the Martha's Vineyard Family Campground and you can get to it quite easily with our A-A Island Auto Rentals.
The campground is situated in Vineyard Haven, just 1.5 miles from our island auto rentals' location and the Steam Ship Wharf. You'll find the place on Edgartown Road. What we love about the venue is that it has rental cabins, tent and RV sites available. So campers are bound to find quiet spots within the confines of the campground that will suit their fancies.
The campsites and campground aren't without highly coveted amenities either. Among them are hot showers, picnic areas, utility hookups, fire rings and outdoor gas grills. Plus, there are plenty of opportunities for onsite and offsite recreation. Among them are hiking, biking, wildlife watching and visiting the campground's play area.
If you do decide to rent one of the cabins, keep in mind that bed linens, cooking utensils and baby gear are not included. Thus, you'll want to think about contacting places like Takemmy Linen Rental, MV Baby Rent and LeRoux at Home. Takemmy Linen Rental and MV Baby Rent will deliver rental items right to your Martha's Vineyard Campground site. LeRoux at Home will not. It's actually a retail store that sells grilling essentials, cooking utensils, dishes, gourmet foods, glassware and much more. You'll find it located right on Main Street in Vineyard Haven.
Even though the store is rather close to the campground, you'll want to have one of our A-A Island Auto Rentals at your disposal. That way, you'll be able to get all of your culinary goodies back to the campground without breaking a serious sweat. Plus, you'll be able to get around town comfortably too, no matter what weather Mother Nature has in store.
To learn more about securing an island auto rental before your next family camping trip, please contact us in Vineyard Haven. Our Water Street staff may be reached online or by calling (800) 627-6333.