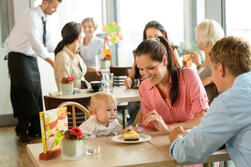 At A-A Island Auto Rental, we understand that starry-eyed couples are not the only ones that love to vacation in Oak Bluffs. Families often visit too.
That's why we make sure our fleet of immaculately maintained vehicles contains 4, 5 and 7-passenger options as well.
So everyone can enjoy family-friendly activities like dining at the following five restaurants for lunch or dinner:
1.) Lobsterville Bar and Grill (Circuit Avenue Ext.)
Who says that moms and dads can't enjoy a fresh seafood dinner with the tots in toe? Certainly not our island rental car pros! There is a place called Lobsterville Bar and Grill, which is located just down the avenue from our rental car location. It features both an adult seafood menu and a kids menu that includes tried and true favorites. So parents may enjoy raw oysters or lobster while the kids munch on burgers and grilled cheese.
2.) Linda Jean's Restaurant (Circuit Avenue)
Lobsterville isn't the only fabulous, family-friendly restaurant on Circuit Avenue either. Moms and dads may want to try Linda Jean's Restaurant too. The staff serves breakfast as well as lunch and dinner. The kids' menu features favorites like corn dogs, French fries, pasta and chocolate chip pancakes. However, there are also helpings of onion rings, chicken wings, patty melts and club sandwiches on offer. Parents may want to go for the grilled portabello mushroom wraps, pan seared sea scallops or grilled sirloin tips instead.
3.) Nancy's Restaurant & Snack Bar (Lake Avenue)
Another spot that features fresh Martha's Vineyard seafood and great meals for all ages is Nancy's Restaurant & Snack Bar. In addition to the fresh seafood, they also serve Middle Eastern dishes, ribs, chicken, pork, pasta and burgers. Because the restaurant's offerings are so vast, don't expect a specific kids' menu though. Just order kid-friendly foods off of the regular menu instead (e.g. chicken fingers and grilled hot dogs)
4.) Giordano's Restaurant (Lake Avenue)
Also situated on Lake Avenue is Giordano's Restaurant. They have a designated kids' menu that includes ravioli, fried clam strips, spaghetti, cheeseburgers and baked macaroni and cheese. Plus, families may enjoy pizza by the pie or by the slice. The list of menu options for the adults also includes steak, seafood, chicken, veal and specialty, Italian-style pasta dishes.
5.) Martha's Vineyard Chowder Company (Oak Bluffs Avenue)
Dying to experience a hearty bowl full of award-winning, renowned chowder? Then load the family up into one of our 7-passenger vehicles and set your sights on a table at Martha's Vineyard Chowder Company. While parents hungrily scoop steaming spoonfuls of chowder from their bowls, the kids can eat grilled pizza, chicken tempura nuggets or fish and chips.
To learn more about renting a family-friendly car or electric bikes in Oak Bluffs and which restaurants are best for kids, please contact us at A-A Island Auto Rental directly.