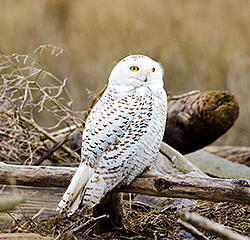 They are snowy white with stunning eyes and just so happen to be some of our island's most celebrated, year-end visitors. Can you guess "whoo whoo" we're talking about? If this was a trivia contest and your answer was snowy owls, you'd be feathering your nest right now with accolades. Last year, a great many of the birds descended upon our area. So we strongly expect to see a lot of people booking Martha's Vineyard rental cars this year and driving off with their binoculars in the hopes of being one of the first folks to see one.
The snowy owls tend to show up on the island in November and migrate back to the Arctic tundra in the spring. Based on previous years' sightings, there are several places our Martha's Vineyard car rental crew would recommend visiting. One of them is Norton Point Beach in Edgartown. Accessible 24/7, there are foot trails and public restrooms onsite. The list of other popular viewing sites includes, but isn't confined to East Chop, West Basin, Quansoo, Oak Bluffs, Edgartown, and Chappaquiddick.
If you are looking for an area that has a lot of different, prime viewing areas all within close distance to one another, shoot for Chappaquiddick. It's home to Wasque, the Cape Poge Wildlife Refuge and Mytoi. All three are open 24/7 and have trails as well as restroom facilities. However, you're apt to have better luck spotting snowy owls at Wasque and Cape Poge due to their proximately to the ocean. For those that are interested, basic trail maps for the three sites are available through The Trustees of Reservations.
To choose Martha's Vineyard rental cars in time to catch glimpses of these majestic birds, please contact us today. We have rental locations situated near several snowy owl viewing spots, like those in Oak Bluffs and Edgartown.