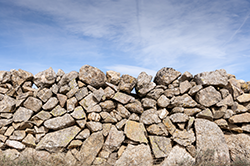 Book With AA Island Auto Rental and See Martha's Vineyard's Famous Stone Walls
Whether you are a fan of Robert Frost's poem, Mending Walls, or not, it's easy to see why so many people book with us at AA Island Auto Rental and head off to gaze at Martha's Vineyard's famous stone walls. They are true feats of early engineering and have been featured in numerous books over the years. The list of titles includes Robert Thorson's, Exploring Stone Walls: A Field Guide to New England's Stone Walls and Susan Allport's tome, Sermons in Stone: The Stone Walls of New England and New York.
To see the stone walls firsthand, we'd suggest jumping in an island car rental and setting course for Chilmark. That's where you'll find many of the rough-faced and dressed stone walls. The majority of the rough-faced walls are fashioned out of indigenous, moraine rocks that are believed to be more than 25,000 years old. As such, it's not uncommon to see examples of lacing. The dressed stone walls are decidedly more decorative, polished and deliberate than their rough-hewn cousins.
They're not the only types of stone walls that await visitors' appreciative eyes and Chilmark isn't the only area that should be on your radar. Tisbury, Gay Head, Edgartown, Oak Bluffs and many other areas accessible via our auto rentals, are great places to go too. While there, you may find walls that feature the marks of age-old masonry techniques, like pin and feathering. There are also likely to be a wide array of design elements to ponder over. Examples include single and double walls with serpentine curves, knob outcroppings, etceteras and visible entrance ways.
Depending on when you choose to visit, there may be opportunities to stroll through some of the island's private gardens, complete with ancient stone walls of their own. A few of the notable ones are Chilmark's Brookside Farm and Edgartown's Helman Garden. Both have been written about previously in books and magazines. You'll typically find them open to the public during the summer months as part of the Garden Conservancy's annual private gardens tours. Our auto rentals can get you to all of the stops on the popular tour as well as other stone wall locations.
To learn more about touring the stone wall covered landscape of Martha's Vineyard in one of our lovely, reliable rental vehicles, please contact us at A-A Island Auto Rental today. We can help set you and your family up with convertibles, mini-vans, jeeps, SUVs and more all year through.