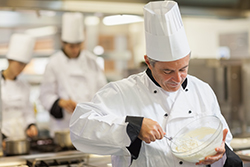 Island Auto Rentals and Winter Culinary Getaways: A Great Match for All
Don't let the winter doldrums set in after the holidays. Book island auto rentals and plan a culinary getaway instead. In our opinion, it's a great way to experience Martha's Vineyard off-season, learn something new and chase away those cold weather blues. We'd suggest that after you book a rental car from us that you call three places. The first is the Mansion House Inn, Health Club and Spa. The other two are Jan Buhrman's Kitchen Porch and Holly Bellebuono's Vineyard Herbs, Teas & Apothecary. All three are located on Martha's Vineyard and within easy drive of our three locations.
The Mansion House's rooms come equipped with refrigerators and Jan Buhrman's Kitchen Porch crew can stock them with delightful, local ingredients. Plus, the crew offers visitors a chance to enjoy customizable culinary experiences, private chef services, and cooking classes year round. So you can create a unique getaway to suit your foodie tastes. As for Vineyard Herbs, Teas & Apothecary, they offer classes, lectures and workshops as well. The big difference between the two educational venues is that the apothecary focuses on the healing power of herbs.
By the way, the apothecary also sells teas, tinctures, skin care items, books and more. Examples include lavender heaven scented bath salts and floral liquid soaps. They'd make great additions to the hotel room's soaking tub and the store's herbal teas would be perfect companions for moments by the Inn's in-room fireplaces. Before or after, you could make good use of the Inn's health club and spa. Among other things, it features an indoor pool, whirlpool, steam room and sauna.
Oh, and if you prefer sipping wine by the fire instead of tea, don't worry. Our island is home to Martha's Vineyard Wines too. In addition to a wide assortment of wines, they sell specialty cheeses, beers, liquors, deli meats and gourmet foods. Plus, you'll find great wine offerings at many of the island's gourmet restaurants. To learn more about booking island auto rentals and setting off on a winter culinary getaway, please contact us online today. Our winter rental cars feature working heaters and are well equipped for getting around the island when the snow flies.