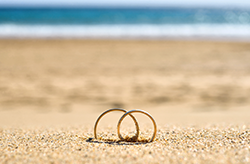 Martha's Vineyard Car Rental Team's 5 Picks for Great Places to Tie the Knot
After he pops the question on New Year's Eve, we're sure that you'll be anxious to start planning your island wedding. Our Martha's Vineyard car rental team would like to help by offering up their picks for five great places to tie the knot on the island. All five are accessible with help from our fleet of rental vehicles and they're by no means the only places to get married. They just happen to be five of our favorites. Here, take a quick look:
1.) Old Whaling Church (Edgartown)
First on our list is the Greek Revival-style Old Whaling Church in Edgartown. It dates back to 1843 and is capable of accommodating up to 500 guests at a time. The interior of the building is spectacular and features a grand staircase, 17th century mural, pipe organ and Steinway Concert C piano. There are several places in the area that are suitable for indoor wedding receptions too. However, most of them accommodate anywhere from 100 to 250 guests. So if you're inviting more guests than that, it may be necessary to rent a tent or head out of town.
2.) Allen Farm Sheep & Wool Co. (Chilmark)
Speaking of outdoor weddings, the Allen Farm Sheep & Wool Company in Chilmark is another great place to go. The views are the best things about the 10-acre farm. It's obviously pastoral and features some of the stone walls the area is so well known for. In addition, there are wooden farmhouse, lakeside and ocean front vistas that would make for some pretty memorable bridal party photos. Because it is an outdoor venue, you and yours will also have the benefit of being able to comfortably seat any number of wedding guests.
3.) Hob Knob Gardens (Edgartown)
The Hob Knob Gardens is a fabulous outdoor location too. It's part of the Hob Knob Hotel and Village Homes, which offers eco-friendly, overnight accommodations and spa services. Furthermore, the property's management also maintains a 27-foot long Boston Whaler boat, which is available for wedding ceremonies as well. The number of wedding guests each area of the property can handle at one time varies. So it's best to sketch out a tentative guest list first and then call the venue's staff to see if they have an area that may accommodate all of your wedding plans.
4.) Union Chapel (Oak Bluffs)
If a Victorian wedding is what you crave, consider reserving the circa 1870 Union Chapel with its stained glass windows and renting gingerbread cottages for you or your guests. Both the octagonal chapel and the cottages feature charming, ornate trim. The church is capable of holding 385 guests at one time, with ease. The town is also home to an old carousel, which was built during the Victorian Era. It would be a good spot to take wedding photos. As for the reception, you'll be hard-pressed to find Victorian Era buildings large enough to accommodate a lot of people. However, there are places like the 15-acre Sailing Camp Park that are more than happy to host wedding receptions. It's very rustic looking and features a wonderful fireplace constructed out of fieldstone.
5.) Dr. Daniel Fisher House (Edgartown)
Last on our "great places to tie the knot" list is the circa 1800s Dr. Daniel Fisher House in Edgartown. It is a sprawling complex that features a water fountain, gardens and Federal-style home complete with a grand ballroom that can accommodate 250 wedding guests at one time. Oh, and there is a lovely terrace onsite too, which is perfect for ceremonies or small receptions.
To discover more about great places to get married and arrange Martha's Vineyard car rentals for your special day, please contact us at A-A Island Auto Rental.