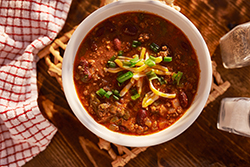 Come and Eat Prize-Winning Chili with Oak Bluffs' Locals on January 24th
Let's face it. There is nothing like eating a big, heaping bowl full of chili on a cold afternoon on Martha's Vineyard. This is especially the case if every loveable spoonful is part of a prize-winning batch. If you agree, make plans to rent a car from us and be in Oak Bluffs on Saturday, January 24th. That's the exact day MVY Radio will be hosting their Big Chili Contest at the Portuguese American Club.
It's an annual contest that has been warming the bellies of Oak Bluffs residents and visitors alike for 28 years. This year's event will make 29 and you'll find the bubbling pots of potentially award-winning chili cooking away on Vineyard Avenue. Our island car rental staff can give you good directions to the club house or you could just follow your nose. Yes, the aroma of hot, spicy, delicious chili is that strong when the radio station and Portuguese American Club are in their respective kitchens.
Oh, and by the way, in addition to the soul-warming chili, everyone will be treated to some live music too. Rumor has it one of the groups tentatively on the schedule is the Mariachi Mexico Lindo Band. Consequently, you might want to plan on staying a while and dancing off some of those calories. The contest is due to kickoff at 11 a.m. and run until 4 p.m. Tickets should be purchased in advance and our island car rental staff can let you know where to find them locally or you can buy them online.
After the chili contest, you may want to check into one of Oak Bluff's charming lodging establishments and spend the night. The Tivoli Inn and Nashua House Hotel are both traditionally open year round. They each have their own charms too. The Tivoli Inn is actually one of the island's famed gingerbread cottages and the Nashua House is a fine Victorian with a beautiful façade of its own. A continental breakfast buffet is made available daily to guests of the Tivoli. Plus, there are restaurants located nearby where you can grab something to eat the next day.
Most of them start serving lunch around 11:30 a.m. However, there is one that opens early and serves a hot breakfast. It's Linda Jean's Restaurant and you'll find her cooking up some might fine foods over on Circuit Avenue. Her breakfast menu generally includes, but isn't limited to omelettes, pancakes, French toast, Belgian waffles, home fries and regular or chicken fried steaks. Of course a good cup of bottomless joe, hot tea, hot cocoa, juice and milk are typically on offer too.
To rent a car and visit Oak Bluffs in time to get your winter chili on, please contact us at A-A Island Auto Rental today. We have a rental car locations in Vineyard Haven and Oak Bluffs just down the street from Linda Jeans and within driving distance of all the other spots we mentioned above. No obligation quotes are available online, in-person or by phone.