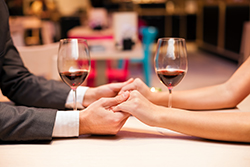 Why not rent a car and celebrate Valentine's Day Weekend 2015 in Martha's Vineyard, MA? There are a lot of activities going on that weekend. Some of them are romantic and the others are not. If you are looking for the island's amorous side, we'd suggest starting your holiday interlude on Friday, February 13th at the Martha's Vineyard Museum. Located in Edgartown, they'll be hosting an extended exhibit titled, Victorian Secrets. As you might have guessed, it's an entire exhibit devoted to women's vintage unmentionables. It's slated to open at 10 a.m. on that day and run through Memorial Day.
After checking out the old-school lingerie, you might want to get into the rental car and head for one of the island's women's apparel shops. Many of them sell charming loungewear, undergarments and ladies' intimates of the modern day variety. The list of shops that may have what you need for a romantic evening includes, but doesn't end with The Great Put-On, Jack Wills and Vineyard Vines®. The first two women's apparel shops are located right in Edgartown and the last one is tucked away in nearby Oak Bluffs.
When you've got your romantic skivvies safely in the trunk of your rental car, don't forget to pick up a bottle of bubbly from M.V. Wine and Spirits. It's also in Edgartown and is located over on Airport Road. While you're still in town, you might want to order a custom platter of sweets, fruits or cheeses from the Black Sheep Fromage & Charcuterie. That way, you and your lover can enjoy it with the champagne or wine back in your favorite hotel room. But don't plan on retiring to that room too early.
The United Methodist Church of Martha's Vineyard is hosting an evening of chamber music for free. It's slated to take place at the Trinity Worship Center in Oak Bluffs from 5:30 p.m. until 7 p.m. Best of all, advance reservations are not needed. So if you decide to eat dinner first and it runs late, there's no need to worry about being penalized for arriving late or skipping out early. After the concert, we're sure that you'll want to make your way back to that expertly appointed hotel room.
If you don't know which lodging establishment would be best for a Valentine's Day Weekend retreat, ask us well in advance. We may be able to provide a handful of suggestions, including places that offer hot tubs or fireplaces. To learn more and plan your February 2015 escape, please contact us at A-A Island Auto Rental today.