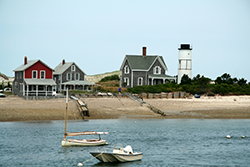 5 Amazing Things You should do when You're Visiting Martha's Vineyard
The quaint and old-world charm of the island has attracted many holiday goers for years now. With endless miles of pristine beaches, biking trails, scenic harbors, golf courses, amazing fishing opportunities, and gourmet restaurants on the menu (no pun intended), Martha's Vineyard is an amazing holiday destination.
If you are planning on exploring Martha's Vineyard with your family for the summer, you can be confused between the massive choices of activities there is to do. The island is not just a beautiful place to rent a car and drive around, but also offers many unique things to see. Here are 5 must-do things when you're visiting Martha's Vineyard.
Camp on Martha's Vineyard
If you want to give your family a taste of the great outdoors, you should try camping on Martha's Vineyard. The island offers camping on the Martha's Vineyard Family Campground, which is located one and a half miles from the Vineyard Haven ferry terminal. The site is replete with fireplaces, picnic tables, and can accommodate TVs and tents. There are even a few cabin rentals on offer, along with amenities such as Laundromats, hot showers, a recreation hall, playground, and a store.
Rent a car and drive to South Beach
Getting a Martha's Vineyard car rental and driving down to the southernmost part of the island is a must-do when you're here. South Beach is one of the most picturesque locations on the island, with the aquamarine waves of the Atlantic Ocean kissing the island's pristine sands. The island has a lot of war history which you can learn of when you are near the entrance to the beach.
Take a trip to the vibrant Gay Head Cliffs
The tall and majestic Gay Head cliffs in Aquinnah boast of overwhelming beauty. The vibrantly colored cliffs, which are a historical site, offer a spectacular view of the island. You can even get a taste of the rich Wampanoag history of the area.
Get Goosebumps on a Ghosts of Vineyard Haven walking tour
If ghost adventures are your thing and you are a big fan of the paranormal, you should check out the Ghosts of Vineyard Haven walking tour. A ride on the New Bedford ferry takes visitors to Vineyard Haven, where they can hop onto an air-conditioned, roomy vehicle and explore the island's paranormal past.
Take a Martha's Vineyard Farm Driving Tour
Martha's Vineyard is famous for its lush agricultural landscape and pristine natural beauty. A poignant way to explore Martha's Vineyard is to take a Martha's Vineyard Farm Driving Tour which takes you along the picturesque countryside and allows you to become one with Mother Nature. You will go for a wagon ride, stop at lambing farms, and even sample local cuisine from the Artcliff Diner Food truck.
There are a variety of things to do while you're visiting Martha's Vineyard. Sometimes, all it takes is to just cruise around the island in your A-A Auto Rental car to come across some exciting adventures. For more information and advice on places to see and things to do, contact us today at 800-627-6333!