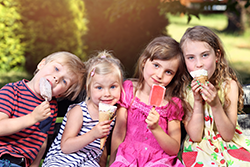 Family-friendly attractions on Martha's Vineyard
7 top spots to take the whole family: If you're planning a visit to Martha's Vineyard, rest assured there's plenty to do with the kids. Here are just a few of many ideas for a fun-filled family vacation on this very special island.
1. Mad Martha's Ice Cream
If you spend a day strolling and shopping, and the kids get tired, stop in for some ice cream. You can't go wrong! Located on Water Street in Edgartown, this gem is a perfect spot to bring your kids. The ice cream is homemade, with flavors like cookie dough, blueberry and Snickers. Be warned—whatever you order, you'll get very generous portions. Mad Martha's is also a sandwich shop. So if you're hungry you can always have an Italian hoagie first then ice cream for dessert. During the warmer months, there may be a line to get in, but it's worth it.
2. The Chappy Ferry
This is a fun favorite for everyone of all ages. You'll get up-close, breathtaking views of the harbor when you ride the Chappy Ferry from Dock Street in Edgartown to Chappy. Be sure to take your camera (or phone) to get some great pics, especially at sunset. You can even make a stop at Chappy Point Beach to do a little fishing. It's a short trip, so it's also good for younger children.
3. Flying Horses Carousel
Carved in 1876, this is the oldest carousel in the world and a must-see when you visit Martha's Vineyard. It's located in the town of Oak Bluffs and has been a treasured landmark for centuries—also declared a National Historic Landmark. Go for a ride on this, and make another great family vacation memory.
There's also a kids' outdoor circus every Wednesday at 5 p.m. at the Chilmark Community Center, followed by animated short films and a feature film for grown-ups. There's also food, crafts, face painting and more.
4. Mermaid Farm and Dairy
Want to do something out of the ordinary in the great outdoors? Go berry picking at this 35-acre farm. It's a seasonal mixed vegetable farm and a year round provider of raw milk. It's located on Middle Road.
If outdoor adventure is your thing, you can also take a guided nature walk at the Long Point Wildlife Refuge, and see the island from a different perspective.
5. Menemsha Galley
Here's a great stop when you get hungry or want a snack. You can order one of their famous lobster rolls and chowder or have a soft-serve ice cream and take in the local scenery. Sunset views await when you sit on the back porch, which is situated right at the head of the harbor.
6. Island Cove Mini Golf
It's always fun to play a round of mini-putt golf with the family. This popular attraction features gardens, waterfalls, even a rock-climbing wall and a snack bar. It's located at 386 State Road in Vineyard Haven.
7. Aquinnah Shop
Enjoy amazing views while you eat at this restaurant located at the Gay Head Cliffs in Aquinnah. One of the oldest restaurants on the island, the Aquinnah Shop serves breakfast, lunch and dinner, including steak and seafood dishes. They offer a mouth-watering seafood menu if you'd like to sample the island flavor. They also have indoor and outdoor seating, and the views are incredible if you want to have dinner and watch the sunset.
When you plan a family vacation to Martha's Vineyard, let MV Auto Rental be your guide to all the good stuff! We provide transportation around the island so you can get to every attraction easily. Contact us today!