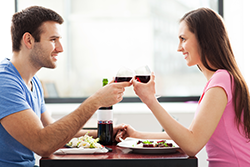 Dining on Martha's Vineyard- Two towns—year-round restaurants
When you visit Martha's Vineyard, you won't go hungry. There are so many exciting places to relax and dine while enjoying the scenery and delicious cuisine. We've taken a closer look at the dining options of two popular towns on the island. Bon appetit!
Oak Bluffs
Oak Bluffs boasts a wide array of unique dining choices. Here are just a few:
Martha's Vineyard Chowder Company – Voted Best Chowder in New England for many years, this is the place to tempt your tastebuds with that chowder you've been imagining since you first thought of a trip to New England. It's gluten-free and made from scratch every day. The restaurant also offers many other items on the menu, including a hummus and falafel plate.
Sharkey's Cantina – Stop by for some Tex-Mex cooking, mouth-watering burritos, Honey Barbecue Chipotle Wings, Boneless Chicken Breast Bites and real-juice Margaritas. This is also the place to get t-shirts and hats to commemorate your visit to the island.
Offshore Ale Company – Voted "Best of the Vineyard" for four years, this is the place to enjoy gourmet truffle oil pizzas, including White Clam and Portobello. When you visit, you must sample their handcrafted beers, locally inspired with flavors like Menemsha Creek Pale Ale and East Chop Lighthouse Ale.
Slice of Life – Experience their Fried Green Tomato BLTs, and did we mention desserts? Here you'll find a decadent bakery where you can sample the mouth-watering confections made fresh every day, or try a homemade fruit smoothie.
Park Corner Bistro – Have you ever had an Espresso Martini? Try one at this quaint restaurant located in the heart of downtown Oak Bluffs. Their Sunday brunch features scrumptious entrees like French Toast and great Bloody Marys. If you come on Sunday, you can sit back and relax to the sounds of acoustic music in a comfortable atmosphere.
Edgartown
This is a place where you can find something for everyone!
Henry's – Considered one of Martha's Vineyard's best-kept secrets, Henry's Bar has a Tapas-inspired menu for those who would like to sample many small portions of delectable dishes, such as Cornmeal Fried Oysters. There is also a traditional menu as well. Located inside the historic Harbor View Hotel, visitors can enjoy amazing views of the Edgartown Lighthouse.
The Wharf Pub and Restaurant – Featuring local seafood and classic pub favorites, this is a casual family place to come in for some Chowder Fries, or Linguine and Clams! There's a cozy, rustic ambience where you can enjoy live music or televised sporting events, depending on when you go.
The Grill on Main – According to the locals, you have to experience their Stuffed Mushrooms. They also offer 2-for-1 entrees on certain days of the week.
Lucky Hank's – This restaurant and café has been described as a "cozy eatery" and features homemade island-inspired dishes like Lobster Deviled Eggs and a Roasted Veggie Pita for lunch. For dinner, try their Seared Sea Scallops or Shrimp and Wild Mushroom Alfredo.
Rockfish – This is a newer restaurant that serves up Wood-Fired Flatbread Pizzas, including the Baby Clam Pizza. Also enjoy their gourmet chicken dishes.
In Edgartown, there is another Sharky's Cantina location if you happen to be in this neighborhood.
If you're planning a trip to Martha's Vineyard, check out more of our dining picks, as well as other tips, on our blog before you go! And let us be your transportation connection on the island!
MV A-A Island Auto Rental, Contact us today!